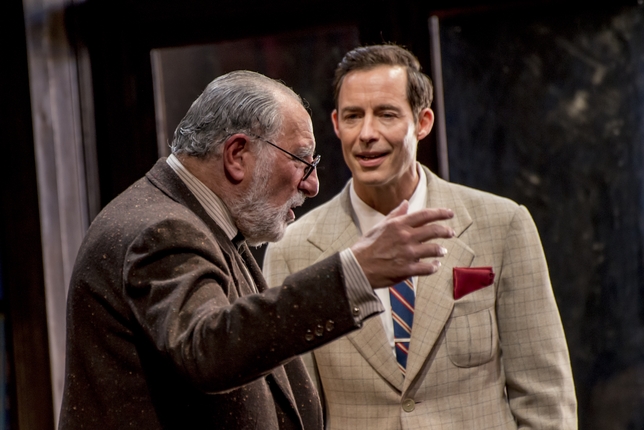 As the dying but still mentally formidable Sigmund Freud, Judd Hirsch philosophizes and coughs with equal dramatic force. And he's droll. All of which, in Mark St. Germain's "What if?" two-hander "Freud's Last Session," are necessities. We need to invest as deeply in the character's mighty intellect as we do in the fact that an old man is confronting both his death and—thanks to his beliefs—a God-free afterlife. The conundrum faced by Freud's unlikely visitor, C.S. Lewis, feels a shade less urgent, although this might be in part due to the adjustment needed to get accustomed to Tom Cavanagh's rummy British accent. Generally speaking, given Hirsch's stage formidableness (particularly in the works of Herb Gardner), any actor who treads the boards with him better bring an A game.
Of course, a performance A game will take you only so far. St. Germain's play so clearly values its themes that it tends to make mouthpieces of those who deliver them. Even with Hirsch and Cavanagh—both more than capable—and Tyler Marchant repeating his directing duties after helming the play's hit runs at Massachusetts' Barrington Stage Company and Off-Broadway, "Freud's Last Session" is a bit of a slog. We already know the outcomes—personal, philosophical, and political. In the 80 minutes we spend in their company, Hirsch's good doctor and Cavanagh's morally certain author rarely show that these characters hurt, suffer, and bleed. And, indeed, how can they, given a script that essentially crams the Wikipedia highlights of the two great thinkers' lives into a single evening?
St. Germain posits an encounter on the eve of World War II at Freud's study in London. Lewis, who has mocked Freud, has been summoned to the doctor's house—and perhaps his couch—for discussion rather than chastisement. Air-raid sirens drone periodically, and Freud is continuously switching on his radio to hear reports from Prime Minister Neville Chamberlain. In other words, the world is going haywire, and Freud, whose oral cancer has him in excruciating pain, wants to talk about big-ticket items—love, sex, the existence of God—with Lewis, a man who will give as good as he gets.
The encounter is more scholarly debate than sparring match. There are a few too many chairs on Brian Prather's book-and-artifact-dominated set, and Hirsch and Cavanagh never seem entirely comfortable placing themselves (both eventually end up on the couch, though not together). The production's most affecting—and therefore effective—moments are the ones containing humanity: Lewis flashing back to his war experiences, Freud asking Lewis to help take out his dental plate.
Cavanagh gets the smugness and the self-doubt; it would be interesting to see what he could make of a historical figure written with more flesh. And seeing Hirsch, whether in light bombast or thoughtful repose, remains a treat. Would that the work were more up to his abilities.
Presented by the Eli and Edythe Broad Stage and Carolyn Rossi Copeland, Robert Stillman, and Jack Thomas at the Eli and Edythe Broad Stage, 1310 11th St., Santa Monica. Jan. 16–Feb. 10. (310) 434-3200 or www.thebroadstage.com. Casting by Pat McCorkle Casting.
Critic's Score: B-