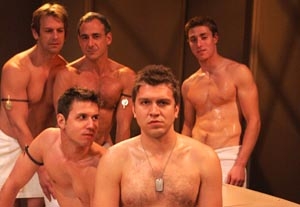 One might fear that the audacious title of Joe DiPietro's 2008 seriocomedy suggests the play is geared more toward box office muscle than toward pure artistry. Any such trepidations quickly vanish as this tasteful and enthralling production gets underway. Pulling no punches in frankly depicting an erotic milieu, DiPietro parlays a labyrinth of lustful encounters among strangers into a profoundly moving portrait of loneliness and longing. The search for emotional fulfillment—the thread that connected the episodes of "La Ronde," Arthur Schnitzler's often-adapted 1900 play—is given fresh resonance in DiPietro's hilarious and heartwarming take on the German classic, transposed to the gay subculture in contemporary Manhattan. Under Calvin Remsberg's adept direction, this consummately acted production brings out the best in the literate script.
The playwright skillfully interweaves diverse segments inspired by the scenes in "La Ronde." He periodically foreshadows upcoming segments to tellingly reflect on the current episode; then he brings it all together in a deeply affecting conclusion. Following each coupling between men, one character moves on to a sexual escapade with someone else. The play grows progressively richer as the universality of the characters' emotional needs becomes more apparent, despite the vast differences in their circumstances and stations in life.
The characters include a young hustler (Brian Dare), a closeted soldier in uniform (Johnny Kostrey), a graduate student serving as a tutor (Mike Ciriaco), a frisky college kid (Michael Rachlis), a middle-aged professional man (Sean Galuszka) and his lover (David Pevsner), a porn star (Jeff Olson), a pretentious playwright (A.J. Tannen), a famous movie star (Chad Borden), and a bisexual television journalist (Gregory Franklin). The actors deliver sensitive and finely etched portrayals. The contributions of Olson, Galuszka, and Dare are particularly poignant. Franklin, Kostrey, and Pevsner excel as highly conflicted souls. Borden is superb as perhaps the most self-serving character, while deftly sidestepping contemptibility. Ciriaco, Rachlis, and Tannen offer considerable charm, as well as comic relief.
Kudos to Remsberg and company for pulling off such an eloquent U.S. premiere of this outstanding new play, among the most rewarding gay-themed works within memory.
Presented by and at the Celebration Theatre, 7051B Santa Monica Blvd
.,
Hollywood. Sept. 11-Oct. 25. Thurs.-Sat
.,
8 p.m
.;
Sun
.,
3 p.m
. (
323
)
957-1884. www.celebrationtheatre.com
.