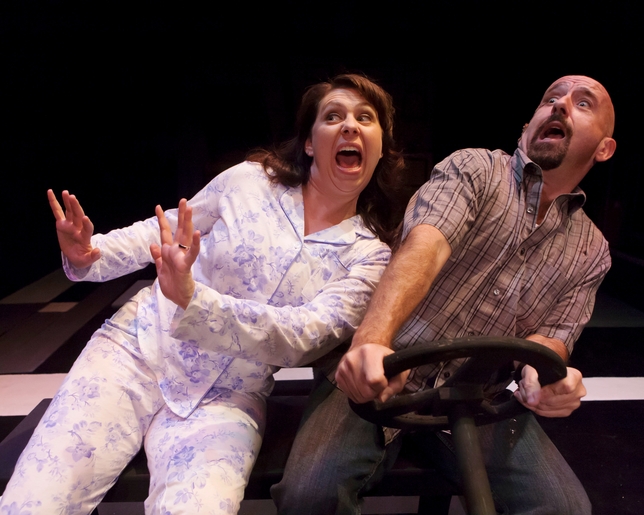 "Fuddy Meers," David Lindsay-Abaire's first major work, debuted in 1999 and revealed a budding playwright emulating the dark, madcap style of Christopher Durang, whose student he was at the Juilliard School. While it's clear that Lindsay-Abaire had already mastered the basics of plot, structure, and dialogue so evident in later works such as "Rabbit Hole" and "Kimberly Akimbo," "Fuddy" has the same fatal flaw as so many of Durang's plays: It's too heavily reliant upon the comedic skills of the cast that performs it. At Long Beach Playhouse, director Robert Craig's company is certainly game, showing no fear of plunging into scenes of havoc with good doses of slapstick. But reliable comic actors they're not.
Claire (Rachel Levy) has what is called "psychogenic amnesia"; she awakens each morning with absolutely no memory of anything that has transpired on the preceding day or days. Her husband, Richard (Tom Juarez), who wears scrubs and appears to be a doctor, patiently tends to her basic needs while continuously trying to jog her memory as the couple's green-haired, foul-mouthed teenage son, Kenny (Michael Dougherty), runs amuck. A stranger named Zach (Stephen Alan Carver), who limps and talks with a lisp, kidnaps Claire and takes her to the country home of Claire's stroke-ridden mom, Gertie (Geraldine D. Fuentes). There he rendezvous with fellow ex-con Millet (Bob Fetes), a schizophrenic who expresses his second personality through a profanity-spewing hand puppet with a Southern accent. Richard and Kenny eventually appear, along with a hot-tempered highway patrol officer named Heidi (Stephanie Schulz). A final flurry of disclosures reveals that not everyone is who—or what—he or she appears to be.
Tantalizing bits sparkle throughout this humdrum production, but for the most part we sit waiting for everything to click. Alas, that moment never comes. Act 1 concludes with a spasm of violent mayhem, the kind of scene meant to get the audience revved up and buzzing during intermission. When Lindsay-Abaire repeats that modus operandi for the Act 2 climax, the disorder is more vicious. So heavily focused on tone, he creates not characters but figures that are merely collections of traits, their actions motivated by plot and situation.
That's exactly the Achilles heel that Craig's cast members, try as they might, cannot overcome. The pacing is always just slightly off-kilter, and the only moments in which the actors seem thoroughly engaged and grounded are the serious ones, intended to give the play heart. In the only overtly noncomical role, Levy nicely projects Claire's confusion, childlike innocence, and good-natured acceptance of her lack of memories, and the actor lends her dialogue the weight of a woman searching for the truth about herself. Carver's portrayal is defined by Zach's repeated threats of doing bodily harm. Only Dougherty and Fetes come somewhat close to generating the lunatic energy on which the script so heavily depends, but it's not enough to save the day.
Presented by and at Long Beach Playhouse, 5021 E. Anaheim St., Long Beach. Oct. 27–Nov. 24. (562) 494-1014 or www.lbplayhouse.org.
Critic's Score: D+