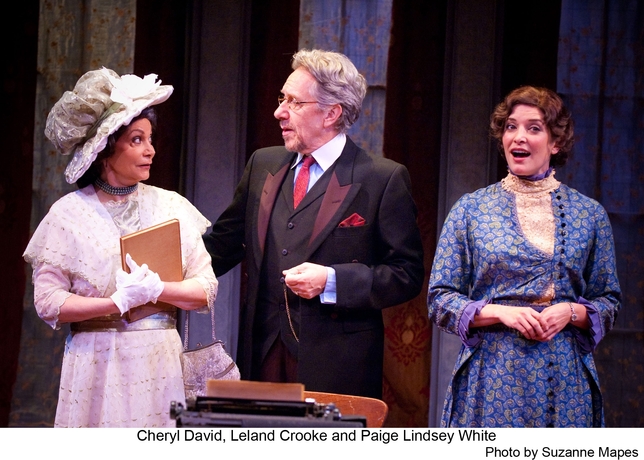 An almost deathly calm hangs over Michael Hollinger's single-set intermissionless 2011 drama about the relationship between an introverted novelist and the much younger woman he hires to take dictation. The 90-minute play is something of a séance, what with the presence of a "professional skeptic"—for whom the audience is a stand-in—who has been hired by the writer's wife after his death to try to dislodge the loyal Myra from her post at a tiny desk furnished only with a typewriter. Donna Ruzika's spectral lighting and an ornate crystal chandelier complete the effect, with only the sparse palette of Dave Mickey's effective sound design to disrupt: the clacking typewriter keys, a ringing phone, mournful piano music from a gramophone record, and claps of thunder.
Against this backdrop the voices of Myra, writer Franklin Woolsey, and his wife, Vivian, reverberate. Hollinger starts in November 1919, just a few weeks after Franklin's untimely death, and glides back and forth through time. Myra has convinced Franklin's publishers that the author's spirit continues to dictate his last, unfinished novel and that if she comes to work every day she will eventually be able to complete the manuscript. They relent, and so begins a battle of wills between the dutiful younger woman, an ardent admirer of the great man, and his stuffy widow, who sees no reason for Myra to use her husband's rented furnished room, believing that she's either a "clever forger" or completely off her rocker. Flashbacks fill in the relationships among Franklin, Myra, and Vivian, allowing us to see Franklin and Myra's first meeting, the rigorous typing test he imposes upon her, his starchy formality, her pushback, and the gradual development of a give-and-take between an artist and a fierce admirer he desperately needs, not so much to take dictation but to gratify his ego.
Director caryn desai's compelling staging is both placid and forceful, her troika of outstanding actors moving as if in a dream. Hollinger spins prose dialogue into lovely poetry replete with haunted imagery. The spirits of death and longing saturate the story, which analyzes the literary process' intense solitude and long bouts of inactivity punctuated by flurries of words.
Desai's cast preserves Hollinger's ambiguities while carving distinctive characterizations. Leland Crooke's Franklin is every inch the product of a religious upbringing by his minister father: brittle, excessively formal, and as stern and fussy as a schoolmarm. Cheryl David's Vivian is a well-heeled society matron who loves her husband's work only because of its attendant wealth and fame. Paige Lindsey White delivers a near tour de force at the center of everything as Myra. At first cheerful and attentive, she paints an ambitious, self-possessed, well-kept young woman determined to become integral to Franklin's creative process.
Ultimately, "Ghost-Writer" is an elegy to an admirable and noble profession that's a product of a bygone era.
Presented by and at International City Theatre, Long Beach Performing Arts Center, 300 E. Ocean Blvd., Long Beach. Aug. 24–Sept. 16. Thu.–Sat., 8 p.m.; Sun., 2 p.m. (562) 436-4610 or www.internationalcitytheatre.org. Casting by Michael Donovan.
Critic's Score: A