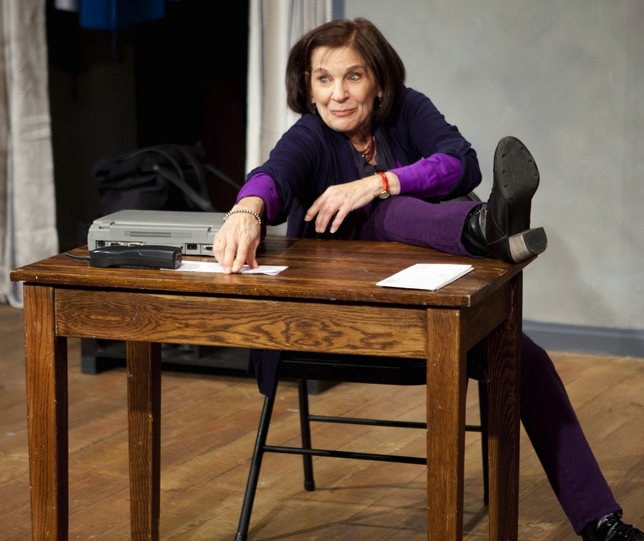 All too many one-person autobiographical shows are mere conceits or vanity pieces. There is drama in almost everyone's life, but unless you are recognized for some outstanding accomplishments or have experienced something extremely rare, what qualifies your particular story as material for the theater? "Giving Up Is Hard to Do," written and performed by Annie Abbott, appears to be a cathartic exercise by a woman who has suffered great losses and risen above them. However, the same is true of so many others that her story is hardly unique. That said, it must be acknowledged that Abbott makes her life and its trials eminently relatable, and she has the admirable ability to mine humor from her personal adversities.
Abbott's tale is primarily about her coming to terms with two tragedies: the loss of her breast to cancer and the death of her husband. She also details her comical attempts as a senior to find a man. Abbott sets her story in a support group and begins by thanking a visiting expert for sharing advice on the latest health aid: masturbation. The perils of Internet matchmaking are made apparent when she reveals to potential partners that she only has one breast and has to face rejection. She then goes back in time, describing how she managed to land her first performing job on sheer nerve. She talks about meeting and marrying another young actor, Ronnie Abbott, whom she describes as a giant of a man, and about their two daughters. Then comes the pain. She undergoes a mastectomy, and years later Ronnie dies, leaving a huge void in her life.
The most moving moments come as Abbott remembers sitting shiva—the Jewish ritual of mourning—for Ronnie and later recalls the time when her father was being buried and his mother, Abbott's indomitable Grandma Deutsch, threw herself hysterically on the casket. There are also some outrageously funny segments, such as when Abbott goes on a post-mastectomy commercial audition for which she has to wear a bikini—and gets the job.
Abbott writes dialogue in a kind of stream-of-consciousness shorthand that at times has the feel of blank verse. Joel Zwick directs at breakneck speed, which propels the action forward but leaves the audience little time to catch up with what is being said or taking place. He might help Abbott find more shading and variety in her delivery, which tends to be clipped, rushed, and for the most part on one note. She is clearly capable of making adjustments that would improve the overall effect.
While "Giving Up Is Hard to Do" does not belong on a must-see list, it could well find an audience among the theater-party crowd.
Presented by and at the Victory Theatre Center, 3324 W. Victory Blvd., Burbank. Jan. 25–March 17. (818) 841-5422 or www.thevictorytheaterenter.org.
Critic's Score: B-