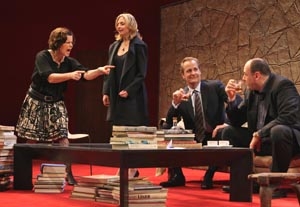 In "Art," French playwright Yasmina Reza cleverly depicted how differing artistic viewpoints bring out hidden antagonisms among close friends. In the latest of her works to be translated into English by Christopher Hampton, Reza again writes about suppressed hostilities. "God of Carnage" is a savagely funny portrait of a supposedly civilized meeting between two couples that turns into a hellish evening of exposed pretensions and horrendous behavior.
The play recalls other sardonic examinations of bourgeois hypocrisy, such as Bruce Norris' "The Pain and the Itch," though Reza's schematic construction and reliance on a farcical sensibility make her play more a delicious entertainment than a profound commentary. Thanks to the efforts of virtuosic artists reprising their efforts from Broadway—director Matthew Warchus and actors Jeff Daniels, Hope Davis, James Gandolfini, and Marcia Gay Harden—the 90-minute piece crackles with razor-sharp wit from the first moment to the last.
Two affluent couples convene in a stylish loft apartment in Brooklyn to discuss a schoolyard confrontation between their 11-year-old sons. Getting the worst end of the deal was the son of the hosts—household-goods merchant Michael (Gandolfini) and his wife, Veronica (Harden), an expert on art and African culture—as two of the lad's teeth were knocked out by the other boy. The ostensibly sympathetic guests—workaholic lawyer Alan (Daniels) and his wife, Annette (Davis), a "wealth manager"—are visiting at the other couple's request in order to reach an amicable resolution to the situation involving their stick-swinging son and the damage he inflicted.
Affected niceties gradually segue to gauche barbs, then to vicious verbal battles and ultimately acts of physical aggression. Veronica's froufrou dessert and the quartet's attempts at friendly small talk aren't enough to ensure a sweet evening. Annette literally becomes sick, in a scene simultaneously uproarious and revolting. Loyalties shift, as the battle lines are continually redrawn between spouses, between couples, and between the men and the women.
The actors are in champion form, acing the lacerating yet explosively funny dialogue and illuminating the desperate efforts of the characters to resume drawing-room chitchat between verbal assaults. Daniels is terrific as the self-absorbed shark of a businessman with a cell phone glued to his ear. Davis skillfully navigates between peacemaker and instigator, as Annette gradually turns from soft-spoken lady to enraged wife.
As a pseudo-liberal suburban wife and mother with intellectual pretensions, the sublime Harden pulls out all stops when Veronica turns into a screaming harridan. Playing a character who rationalizes his cruelty to the family's pet hamster, the superb Gandolfini is alternately fiendish and detached from the bizarre goings-on.
Mark Thompson's scenic design is a wonder to behold. The sparsely decorated, elegant set is dominated by sky-high walls in deep red, evoking a slightly ominous feel—a portent of the impending meltdown.
Presented by Center Theatre Group, Robert Fox, David Pugh and Dafydd Rogers, Stuart Thompson, Scott Rudin, Jon B. Platt, the Weinstein Company, and the Shubert Organization at the Ahmanson Theatre, 135 N. Grand Ave., L.A. April 13–May 29. Tue.–Fri., 8 p.m.; Sat., 2 and 8 p.m.; Sun., 1 and 6:30 p.m. (Additional performance Thu., May 12, 2 p.m.; no performance Sun., May 15, 6:30 p.m.) (213) 972-4400. www.centertheatregroup.org.