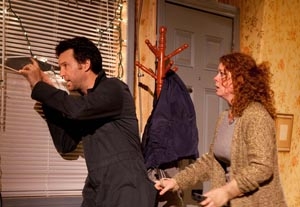 A Chicago-bred 2007 dramedy making its West Coast debut, Lisa Dillman's
Half of Plenty
brims with promise at the outset. Its theme of death in suburbia—not literally so but in the spiritual malaise that accompanies unfulfilled lives—is timely, exploring trepidations about middle age, the uncertainties of economic stability, and the stultifying pressures of living by society's rigid rules. Director Barbara Kallir helms a tautly paced production, bolstered by astute designs. Unfortunately, the play's potential impact is compromised when two supporting characters slip into caricature.
Holly and Marty Tindall (Carolyn Palmer and John Pollono) have settled into a comfortable new home in an unspecified suburban town. The attractive walls of their dream house can't shut out an "Is that all there is?" feeling in this childless, middle-class domicile, made more difficult by the recent presence of Marty's dementia-suffering father, Jack (Robert Mandan), who's quite a handful. Enter two busybody neighbors, the Zooks (Betsy Zajko and Ron Bottitta), heads of the neighborhood watch group. It's soon apparent that the association is intent on controlling every aspect of the lives of local residents—extending to Christmas decorations, life insurance policies, bigotry against Arab neighbors, and more. Holly is soon startled to find Marty being sucked into the Zooks' tactics, including acts of vandalism and decisions about what to do with Jack.
Palmer and Pollono share heart-rending and funny scenes, tapping into the strengths and foibles of two respectable citizens who want nothing more than their share of happiness. Mandan finds big laughs in the childlike antics of the crazy-like-a-fox father, while subtly evoking poignancy at appropriate moments. Bottitta and Zajko efficiently play their characters as written, but therein lies the problem. The resonant reality of this story goes flying out the window when we meet these mustache-twirling louts. The tone of the play goes bonkers every time the neighbors intrude, as we half expect the script to take a detour into
Rosemary's Baby
or
Stepford Wives
territory. At that point, the seriocomic social satire morphs into a dramaturgic muddle, and
Half of Plenty
becomes a glass half-empty.
Presented by Rogue Machine at Theatre/
Theater, 5041 Pico Blvd., L.A. May 22–June 21. Thu.–Sat., 8 p.m.; Sun., 7 p.m.
(323) 960-7774.
www.roguemachinetheatre.com
.