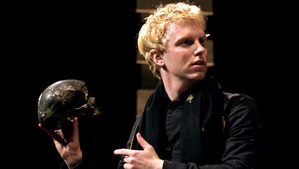 Our evening ends with a dance. The noblest and most corrupt family of Denmark rises, corpse by corpse, from the dead to join in an Irish reel. Which might be a peculiar way to bid farewell to "Hamlet" were it not for the fact that this production also began with a dance—to a no-less-sprightly drinking song, in fact.
Music and festivity is to be expected from Shakespeare's Globe Theatre, whether playing comic or tragic. Under the leadership of artistic director Dominic Dromgoole, touring SGT shows travel light and with highly versatile players. The single-set two story tree house, designed by Jonathan Fensom, is a dead ringer for the one that SGT used when it brought "Merry Wives of Windsor" to town a couple of seasons back. With the Globe, it's not about the finery; it's about period-specific techniques and execution. And the actors.
And a fine troupe this is, comprised of eight actors, all but Michael Benz (who stars as the titular prince) taking on multiple parts. They also supply their own musical accompaniment and sound effects. The house lights are left on and everything is in view. We're talking road show on a shoestring, very much as the players within "Hamlet" might have done it. SGT takes serious pride in its original practices techniques, although the company is now employing women performers more often under Dromgoole than it did when Mark Rylance was running the show.
Talky and melancholy as the play is, "Hamlet" may not seem to lend itself to free-wheeling theatricality, but this production—which Dromgoole and Bill Buckhurst co-direct—is equal parts spice and reflection. Benz is a decidedly cerebral Hamlet, but he's the only one permitted to linger over the language. For everyone else, there's clearly a post-curtain party to reach. This is not to the show's detraction, though; far from it. The dumb show prelude to "The Murder of Gonzago" is masterful, and the use of a drawn curtain to let the actors jump between their "Hamlet" and "Gonzago" roles is equally deft.
One will have to search far to find a more dynamic (if still utterly self-absorbed) Polonius than the one served up by Christopher Saul. No wonder Carlyss Peer's occasionally beaten down Ophelia seems to break so terrifyingly free in her mad scene once Polonius has bitten the dust. Juggling three other roles including the First Player, Dickon Tyrrell still infuses Claudius with a canny blend of ambition and effeteness. This is not a King who wants to be bothered with covering up his dirty deeds.
Ensemble skill or no, the play will come down to the strength of its prince, and this "Hamlet" is in good hands. With surfer blond hair and a slightly babyish face, Benz offers a Hamlet who always seems to be stumbling into some kind of misfortune. "Oops, I didn't realize Ophelia was there while I thought about suicide. Yikes, I guess I'll have to off the king after all." The kid can soliloquize, fence, banter, and even pick up an instrument. He can do it all (which, in an SGT ensemble, is an occupational necessity).
Presented by Shakespeare's Globe Theatre at the Broad Stage, 1310 11th St., Santa Monica. Nov. 15–25. (310) 434-3200 or www.thebroadstage.com.
Critic's Score: A-