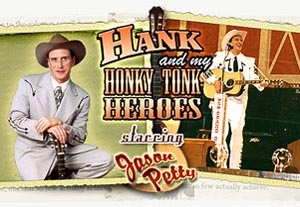 For its musicianship, this show is worth a visit. Writer-performer Jason Petty sings Hank Williams classics, plus covers of other gods of country music, backed by a four-man band of superb musicians. Petty is also an appealing narrator, recounting the life and times of Williams. Other elements of Petty's patter sink the production, whether it's his attempts at homespun humor that don't play in North Hollywood or whether it's his intrusive mentions of himself while detailing the lives of others.
Where too many other shows fall apart, however, this one reaches its peak, midway through Act 1. Petty draws us into the life of a gifted man—the struggles, bad marriage, addictions, and early death that seem endemic to famous musicians yet that once again break our hearts. As successful as the first act gets, Act 2 seems to plummet. Where lighting enhanced the songs of the first act, either cues are thin or the board operator dozed during the second. Where staging kept us engaged, it now seems static. Noticeably, no director is credited with the production.
But Petty can thrill us, delivering on such giant works as "Hey Good Lookin,'" "Your Cheatin' Heart," and "I Saw the Light." Backing him are fine musicians who remain happily engaged with the onstage shenanigans of the production. They are David Martin on bass, Eric Lewis on steel guitar, Tommy Wayne on electric guitar, and, on fiddle, David Finch, whose pure tones could find a happy home in a symphony orchestra.
The musicianship remains quality, though the narrative drops off midway through Act 2, after Petty speaks of William's death. Covers of Elvis Presley's "That's Alright Momma" and Alan Jackson's "Midnight in Montgomery" are stirring, but in down-home fashion Petty ruins the mood with his plugs for his other shows and his CDs. Frankly, if we like him enough—and there are few reasons not to—we'll find him and his merchandise on our own.
Presented by and at the El Portal Theatre, 5269 Lankershim Blvd
.,
North Hollywood. May 14
–
24. Thu
.–
Fri
.,
8 p.m
.;
Sat
.,
3 and 8 p.m
.;
Sun
.,
3 p.m
. (
818
)
508-4200 or www.elportaltheatre.com
.