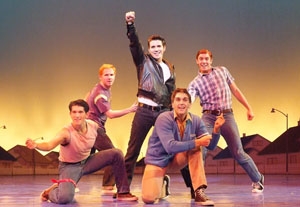 No, this isn't a musical adaptation of Samuel Beckett's absurdist drama. It's something far more conventional: an attempt to capitalize on audiences' affection for Garry Marshall's long-running 1970s–80s sitcom about teenage life in 1950s Middle America. That said, it's an unabashed crowd-pleaser that has improved substantially since its 2006 world premiere at the Falcon Theatre. It now feels less gimmicky and more an unpretentious bubble-gum frolic, suggesting that considerable fine-tuning occurred during touring and regional productions. Cabrillo Music Theatre lavishes first-rate production values on the show, and at an opening-weekend matinee, a talented cast spread infectious fun through the large auditorium.
The many beloved characters from the series are either in the play or mentioned. Where would this show be without a charismatic embodiment of the supercool Arthur "Fonzie" Fonzarelli, who was created so memorably by Henry Winkler? Thankfully, the character is in superb hands here, played with verve and great charm by Derek Keeling—a natural fit, considering his prior gig as Danny Zuko in the "Grease" revival. He's paired to perfection with Misty Cotton as the sultry Pinky Tuscadero. Cotton sings and dances up a storm and nails the saucy sexiness of this biker chick. Effervescent Derek Klena seamlessly inhabits the role of squeaky-clean high school nerd Richie Cunningham, the Fonz's best pal. Tracy Lore and John Richard Petersen offer hilariously on-target portrayals of Richie's sitcom-standard parents. Adding to the fun are zesty characterizations by Benjamin Goldsmith as Potsie, Dane Biren as Ralph Malph, Tessa Grady as Joanie, Estevan Valdes as Chachi, Nicholas Lienbach and Will Harris as the menacing Malachis, and Jay Weber as diner owner Arnold. The large cast cavorts with glee, put through their paces by director Susan Morgenstern, choreographer John Charron, and music director Lloyd Cooper.
Paul Williams' spry score is enjoyable. The token plot threads in Marshall's book are primarily glue to hold mirthful gags together. Those with fond memories of a warm-hearted TV classic will find plenty of undemanding fun here.

Presented by Cabrillo Music Theatre at the Kavli Theatre, Thousand Oaks Civic Arts Plaza, 2100 Thousand Oaks Blvd., Thousand Oaks. Oct. 22–31. Thu., 7:30 p.m.; Fri., 8 p.m.; Sat., 2 and 8 p.m.; Sun., 2 p.m.(805) 449-2787 or www.cabrillomusictheatre.com.