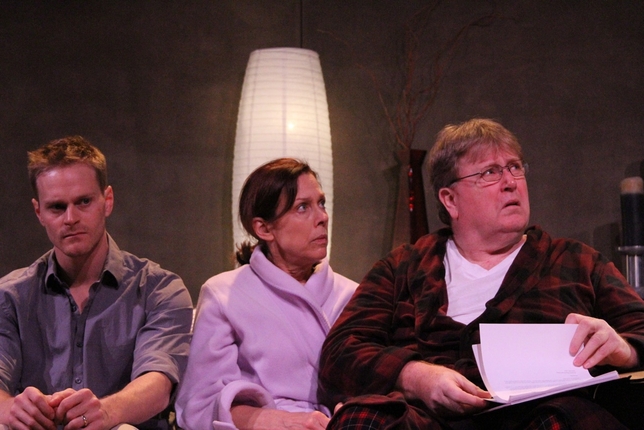 It's a tough task to build a solid piece of theater on a gimmick. But in the case of playwright R.J. Colleary's idea—one story told twice: as a comedy and as a drama—there's the possibility of substance. After all, how far apart are laughter and tears? It's a disappointment, then, to find that "Happy Face Sad Face" doesn't give us much of anything more than its hook—and even that lets us down.
We put on our "Sad Face" first. Lights come up on two couples arguing in their bedrooms. Jason and Emily (Tom Christensen and Krizia Bajos) are married and having problems conceiving. Jason isn't sure if he wants a baby or even to stay in the marriage. His parents, Tom and Sonya (Thomas F. Evans and Perry Smith), are in the room next door, having dropped by for dinner and an impromptu sleepover. We get a sense that they have pretty big problems of their own. Then we hear the doorbell. (This late at night?) Jason sells life insurance, and one of his clients has stopped by to check on certain details of his policy. One look at Malcom Summerall (Rob Locke), who for all intents and purposes should be on his death bed, and we know that this will not end well.
So it's a very heavy-handed drama that we get hit with for starters. Add to this the weight of a dubious policeman (Eddie Alfano) and Summerall's young daughter (Sarah Agor), accompanied by some outrageous plot twists and turns, and we just wish director Kathleen Rubin would lighten things up and allow us to smile. Because at a certain point there's no avoiding it: This stuff is ridiculous and—with this same group of talented actors—could easily be funny. But wait, that's what Act 2 is for, right?
Unfortunately, we get even more frustrated when it's "Happy Face" time. Rather than mining the same material for different results, author and director instead provide an extremely loose riff on the story that concentrates on comedy at all costs, ending up farther from any truth than when they delved into drama for drama's sake.
Sure, there are laughs. The actors go for broke, Colleary has written some fantastic lines, and Rubin's staging is full of fun bits. But ultimately, "Happy Face Sad Face" leaves us with a pretty blank expression.
Presented by Russell Boast at the Elephant Lillian Theatre, 6322 Santa Monica Blvd., L.A. Jan. 19–Feb. 24. (323) 960-7770 or www.plays411.com.
Critic's Score: D