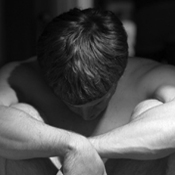 If you print the word Wyoming across a map of the state, the small town where Ted migrated from would be right under the n. Ted (winningly played by Joe Egender) is a sweet young fellow who has moved to Los Angeles for two reasons: to become a star and to find someone "real" to love. "You came to L.A. to find real?" asks Rigby (a burly, tough-tender Christopher Neiman).
Erik Patterson's play takes us on a randomly guided tour of the gay life of West Hollywood, at the same time letting us in on the hearts and minds of its denizens. Let the buyer beware: He Asked for It is a virally gay-centric play, very out there, and sometimes an eye-opener in its frankness and language. Despite the heated sex talk, unbelievable but apparently true practices, and porn-bespattered dialogue, its shock value is in the realization that rather than merely casual sex, most wish lists include a universal desire for identity, acceptance, and connection.
Laptops are a theme, playing a huge part in the lonely lives of Henry (a well-tuned and straight-arrow Ron Morehouse); Neal (nicely worked over by Brad C. Light), a bit of a nasty character; Rigby, the "bareback rider" who accidentally, maybe, got off the Poz for Poz line and into the romance chat room; and the reticent Ted, who's getting royally screwed at the hands of Marcus ("I'm not gay"), his sleazy, high-rent agent (a superlative cameo by Joel Scher). Rebecca Sigl is lovely and real as Ted's sweet-16 sister back in Wyoming.
Director Neil H. Weiss keeps things moving at a lively pace, getting excellent performances on the simple set backed by Greg Emetaz's colorful and lively projections and choreographing the set changes so there are no klutzy scene-stealers interrupting the flow.
Patterson's world premiere play is funny, wicked, and a bit shocking, moving quickly from comedy to drama, but it officially ends at intermission. The story has been told and the long speeches of explanation are post-orgasmic and seem tacked on. We got it.
Presented by and at Theatre of NOTE,
1517 N. Cahuenga Blvd., Hollywood.
Fri.-Sat. 8 p.m., Sun. 7 p.m. Apr. 25-Jun. 1.
(323) 856-8611. www.theatreofnote.com.