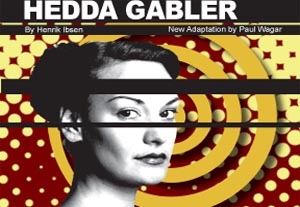 How do we manage to feel empathy for one of the most Machiavellian villainesses in dramatic literature? The title character in Henrik Ibsen's 1891 classic is a tricky role. The evil machinations of suppressed housewife Hedda border on the psychotic. Offering the strongest element in director Les Miller's premiere rendition of Paul Wagar's new adaptation, Julie Granata's captivating portrayal bristles with sly wit; this Hedda elicits more ironic humor than chills. Trapped in a stultifying marriage to bookish Tesman (Darrel Guilbeau) while carrying a torch for the man who got away, Lovborg (Zack Hamra), Hedda resorts to sabotaging careers and encouraging a suicide, capped off by an ultimate act of destructiveness.
Underlining the universality of Ibsen's themes, Wagar's text, which resets the story in 1955 New York, feels like a seamless reinvention of this gripping yarn. Granata's delicious characterization of Hedda as a fashion-plate ice princess prone to bitchy putdowns is riveting, and Guilbeau is appropriately wimpy as her innocuous husband. Shanti Bowes offers a creditable depiction of another type of woman—a hysterical bundle of emotional fragility—as Lovborg's current fling, Thea. Hamra is superb as the recovered alcoholic who's a professional rival to Tesman. Peter Colburn excels as dastardly Judge Brack, whose blackmail tactics pose a formidable challenge for Hedda. JoAnna Jocelyn's characterization as kindly Aunt Julia feels too mannered, and Simone Gad's exaggerated emoting in the supporting role of neurotic servant Berta comes across as distracting.
Christina Silvoso's smart and finely detailed set and Theodoricus' stylish costumes are impressive.

Presented by the Ark Theatre at the Hayworth, 2511 Wilshire Blvd., L.A. June 12–July 11. Thu.–Sat., 8 p.m.; Sun., 7 p.m. (323) 969-1707 or www.arktheatre.org.