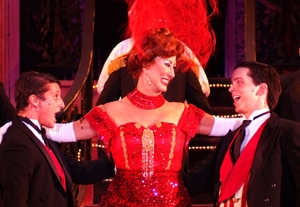 Jerry Herman's 1964 musical remains among the prolific composer-lyricist's most durable creations, proving that "old-fashioned" needn't equate to passé. Director Calvin Remsberg recaptures old-time Broadway magic in his relatively small-scaled yet handsomely staged take on the extravaganza, putting the focus on a solid ensemble effort and a scintillating star turn by radiant Ruth Williamson as the irrepressible title character. Despite a few rough edges, Remsberg's production serves up a crowd-pleasing entertainment feast.
Herman and librettist Michael Stewart adapted Thornton Wilder's comedy "The Matchmaker," set in 1890s New York, following the machinations of widowed marriage broker Dolly Levi (Williamson) to snare her cantankerous but rich client, shop owner Horace Vandergelder (David Allen Jones), for herself. The plum role of Dolly is strongly associated with Carol Channing on Broadway and Barbra Streisand in the 1969 film version. Sidestepping Channing's kewpie-doll mannerisms and Streisand's campy Mae West inflections, Williamson makes the role her own in a more realistic interpretation. She generates moments of genuine pathos for the lonely widow without sacrificing the story's broad humor and high spirits. Williamson is also a fabulous singer, giving Herman's melodic numbers the bombast and beauty that are called for.
As the blustery Vandergelder, Jones is a perfect foil to Williamson's self-assured Dolly, allowing the comic sparks to fly between the two. As flirtatious milliner Irene Molloy, Virginia Weber is captivating and in splendid voice in "Ribbons Down My Back." Others offering fine support are Hannah Simmons as Irene's giggly assistant, Bryan Feldman and Taylor Simmons as Vandergelder's beleaguered employees, Dani Kerry as Vandergelder's sobbing niece, Garrett Deacon as her determined young fiancé, and Clare V. Solly as Vandergelder's date from hell.
Choreographer Kami Seymour does splendid work in re-imagining Gower Champion's original concepts, highlighted by the athletic "Waiters' Gallop," smashingly performed by the male chorus. Gerald Sternbach's music direction is terrific. John Iacovelli's tasteful set design evokes a feel of tintype photographs in place of Broadway glitz. Jared Sayeg's lighting and Sharell Martin's costumes are highly appealing.
Though the slapstick shenanigans in the dress shop and restaurant scenes need sharper timing, and the pace occasionally lags a bit, "Dolly" is still glowing, crowing, and going strong in this felicitous revival.

Presented by 3D Theatricals at the OC Pavilion, 801 N. Main St., Santa Ana.  July 9–Aug. 1. Thu.–Fri., 8 p.m.; Sat., 2 and 8 p.m.; Sun., 2 p.m.  (714) 550-0880. www.ocpavilion.com.