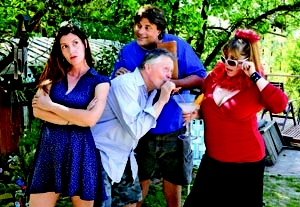 Back Stage and LA Weekly continue their collaboration to review a selection of Hollywood Fringe Festival productions. Visit the Fringe website—or better yet, visit the Fringe, running through June 26.
Actor Under Fire
In his solo piece, directed by Anita Khanzadian, actor James Gleason tells us how he enlisted in the Air Force during the Vietnam War. The piece has its charms, but they wear thin after a while.
Am I Black Enough Yet? (Critic's Pick)
Playwright Clinton Johnston's piece humorously explores what it means to be black in America today. It makes for a hilarious, thought-provoking, and sometimes unsettling 85 minutes.
American Addict
What is the difference between a viral Internet meme and a live stage performance? Such is the question posed by this feeble and ill-fitted autobiographical object lesson.
Another Effing Family Drama
Catherine Pelonero's aim appears to be an irreverent spoof of dysfunctional-family plays, but there's nothing funny about boorishness, vulgarity, and stupidity when they're laid on with a trowel.
Are We Not Human? (Critic's Pick)
Outfitted in ugly jumpsuits, hideous eyeglasses, and ridiculous hairdos, Keirin Brown and Ilana Gustafson Turner spend a brisk hour poking mostly wordless fun at the female experience.
The Barking Pig (Critic's Pick)
Writer-director Michael Shaw Fisher's world premiere play takes us to highly unexpected places.
Charlie! The Death of Nancy Fullforce
In this musical by writer-performer Jasten King, hard-driving rock songs and multimedia imagery overwhelm a wisp of a narrative that apparently aims for subversive satire but mostly comes across as annoying.
Confetti Bayou: The Last Interview With Janis Joplin
Cricket Leigh's worthy intent is to probe the vulnerabilities of this compelling and tragic figure, but the script rambles circuitously, and neither her rather imitative and emulative portrayal nor Vitulli's delves very deep.
Deity Clutch
Every actor onstage in this Porters of Hellsgate effort masters heightened language. Too bad that language, and the storytelling it attempts, can be described at best as plodding and at worst as pretentious.
Dreams From a Dead City
This incomprehensible Samuel Beckett–meets–Ayn Rand rant evokes a continuous spew of pop references from Sylvia Plath to Don Draper without making much sense.
Eavesdropper 2012
The titillating trifecta of sex, drugs, and violence cannot save this premiere production from its wretchedly uninteresting fate.
Em O'Loughlin Was a Big Fatty Boombah
As the title suggests, this is an irreverent and quite funny look at someone who for much of her life had an extreme weight problem.
Endgame (Critic's Pick)
Writer-director David Wiseheart does a neat job of blurring the line between reality and fantasy Think Hitchcock with a dash of "The Twilight Zone." The writing is as good as the performances.
8 Piece Legs and Thighs
Choreographer Beth Megill and her dancers take lighthearted aim at current obsessions with sexuality, weight loss, and objectification of women.
Fact and Fiction
Playwright William Nedved's mind-bending pair of world-premiere, solo-actor works, skillfully directed by Dámaso Rodriguez, couldn't be more aptly titled.
Fear Factor: Canine Edition (Critic's Pick)
It's a probing and poetical examination of human relations and canine relations and what it means to be tethered to another living being. Grady's performance is as impeccable as his story is affecting.
Feeling Feeling
Writer-director Sarah Doyle plots her tale in four-year intervals that coincide with the Olympic Games, and nicely crosscuts her examination of gender politics with a sad tale of Darla's forgotten best friend.
Five Uneasy Pieces (Critic's Pick)
Todd Waring's impressive self-penned solo show (with moody live accompaniment on double bass from Lyman Medeiros) plays like an actor's show reel.
Four Clowns: Romeo and Juliet
Regard for the Bard and the venerable art of clowning reach a perilous new low as the Four Clowns brutally burlesque Shakespeare's immortal tale of star-crossed lovers into an excruciatingly witless 90 minutes.
Girl Band in the Men's Room (Critic's Pick)
An unnamed four-girl grunge band in December 1994 is lurking by the urinals, squabbling about their future.
Hog Riot!
A couple of fun tableaus at the end of the piece provide a moment or two of relief, but otherwise the show is missable.
Ineffable
They pull the entire audience onstage for a group photo, they pratfall, they execute stylized choreography to witty musical choices, and yet the show is over too soon.
Life in the Middle Ages
Steve Ochs' relentlessly facile text yields few new insights that couldn't be found at a New Age retreat or Comedy Store benefit night.
Lights Up on the Fade Out (Critic's Pick)
Padraic Lillis' debuting drama offers an incisive portrait of a middle-aged film director, Steve (Tom Hildreth), who wins his first big career break while his personal life remains severely out of focus.
The Many Women of Troy (Critic's Pick)
Michael John Boynton wrote the book and lyrics and Brian Allan Hobbs composed the music for this ambitious musical focusing on women's experience of war and violence.
The Normal Child
The work presumably indicts parental cruelty, but its strong points are its poetry and the actors' lyricism.
A Mess of Things: A New Documentary Musicplay (Critic's Pick)
Adam Tinkle is a stoic yet passionate performer, and his lovely performance is a kind of evocation to the essences of history on the verge of extinction.
Paint: Imagining a Love Story
Spanning 57 years, this sentimental and unauthorized biopic by writer-director Dan DeNicola depicts the relationship between two notable 20th-century painters.
Pulp Shakespeare (Critic's Pick)
This lively and imaginative onstage reinvention of Quentin Tarantino's film "Pulp Fiction" as an Elizabethan thriller is an often appealing and unexpectedly harrowing drama.
Rollerblading in Gaza
Maude Kochendler seems more at home belting out a cabaret tune. Despite her irrepressible spirit, this commonplace personal tale is devoid of emotional insight.
Sales on Hollywood Boulevard
Even by the logic of farce, the play makes little sense; the acting is mostly overwrought in a presentation so assertively abject, it defies further description.
The Sex Life of Achilles
After beginning the piece as a campy, cynical send-up of the Greek myths, LeBarron then expects us to take them seriously.
Spring Awakening
Jonathan Franzen's translation of Frank Wedekind's 1906 classic about burgeoning hormones in German teens gets largely obliterated under Dana Murphy and Patrick Riley's staging.
Steal Away: The Living History of Harriet Tubman
The play unfolds Tubman's memories, sweetly showing that there are good and bad people no matter our race or gender. But Balian's direction lacks an imagination.
Top That!
Despite caustically funny moments, the effort is hampered by uneven performances and a two-hour narrative that desperately needs sharper focus.
The Trouble With Words
Gregory Nabours' musical revue has six singers, six musicians and 19 songs, all searching for a point.