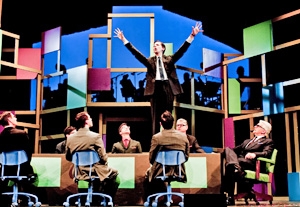 The contributions of songwriter Frank Loesser ("The Most Happy Fella," "Guys and Dolls") to Broadway's legacy remain legendary. The surprising thing about director-choreographer Marcia Milgrom Dodge's glittering revival of Loesser's 1961 Tony- and Pulitzer-winning "How to Succeed" is that it simultaneously feels like a quintessential 1960s-styled confection and a timelessly trenchant satire of office politics. Reprise's scintillatingly entertaining revisit, blessed with Josh Grisetti's luminous lead performance, offers a "how to" course in revitalizing vintage musicals.
Loesser's witty lyrics and catchy melodies—coupled with a hilarious book by Abe Burrows, Jack Weinstock, and Willie Gilbert—ensure fun to spare and good old-fashioned romance.  Long before "9 to 5: The Musical," Loesser let us know "A Secretary Is Not a Toy," yet he also demonstrated the devotion of a dewy-eyed JFK-era wannabe housewife in "Happy to Keep His Dinner Warm." Who else but Loesser would think of writing an audacious paean to self-love called "I Believe in You," delivered to a washroom mirror? As ladder-climbing window washer J. Pierrepont Finch, Grisetti nails that delicious number, putting his individual stamp on a role strongly associated with Robert Morse on stage and screen. Grisetti goes more for a seductively irresistible con man than the brashly exaggerated goofball approach that Morse and others have taken in this role. Grisetti's a charmer from the get-go, and he boasts a stellar voice. This portrayal feels like the birth of a musical superstar.
Likewise impressive is the TLC that has gone into enlisting a sensational gallery of knockout supporting performances. Nicole Parker is radiant as Finch's neglected ladylove Rosemary; besides her acting prowess, she's a wonderful singer, and it's too bad the score doesn't give her more numbers. Simon Helberg's broadly etched shenanigans as nepotistic weasel Bud Frump hit all the right comedic notes. John O'Hurley is a hoot as stuffy, philandering executive J.B. Biggley, and the sparks fly uproariously during his scenes with terrific Melissa Fahn as his "bubble-headed tomato" mistress. Vicki Lewis as nerdy personnel associate Smitty and Ruth Williamson as Biggley's spinster secretary, Miss Jones, shine in their spot-on characterizations and bravura singing turns. Michael Kostroff is at his best as brown-nosing mailroom head Twimble, acing the choice number "The Company Way." The ensemble effort is splendid, with E.E. Bell a standout in multiple roles.
Music director Darryl Archibald serves the jaunty score smashingly, and Dodge ensures that the big dance numbers crackle with showstopping brio. Bradley Kaye's op-art scenic design, Kate Bergh's costumes, and Elizabeth Harper's lighting wisely keep this durable comfort-food musical firmly rooted in its original era.
Presented by Reprise Theatre Company at the Freud Playhouse, UCLA campus, Sunset at Hilgard, Westwood. May 12-23. Tue.-Fri., 8 p.m.; Sat., 2 and 8 p.m.; Sun., 2 and 7 p.m. (310) 825-2101. www.reprise.org.