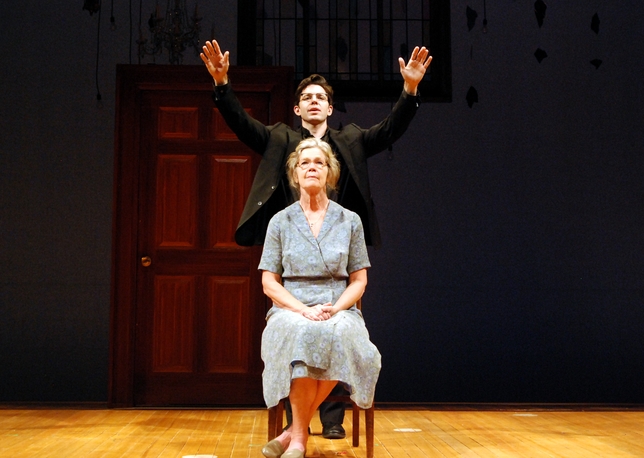 Playwright Bill Cain has an unusual perspective on life by virtue of his profession as a Jesuit priest. Those two identities are inextricably intertwined in his newest play (from 2010), "How to Write a New Book for the Bible." So when his main character, whose name is Bill Cain, begins by addressing us directly and acting as our guide in an intimate look at his family life, we know that Cain is launching into an intensely personal autobiography. "Bible" is the play he had to write, a cry from the heart so personal and specific he couldn't suppress it.
The play's raison d'etre is its title. Bill (well played by Tyler Pierce) wants to write a Biblical addition to enlighten others while providing himself with a much-needed resolution of his feelings toward his family. The story's crux is the fatal cancer suffered first by Cain's dad, Pete (Jeff Biehl), then mom, Mary (Linda Gehringer), the latter requiring Bill to return home to act as caregiver during her final, pain-ridden months. As Cain doesn't sugarcoat, the smell of disease and death is pervasive.
The fragmentary structure moves us back and forth in time. Cain obviously sees his life as akin to the Tyrones, the Wingfields, and other famed nuclear families of 20th-century theater, but his approach never rises to the subtlety or complexity of O'Neill or Williams. Bill tells us that he doesn't want his family to be Jesus, Mary, and Joseph, yet the author paints them in almost exactly those terms, with Cain as the pesky kid brother Jesus never had. There are many funny, charming, and affecting moments, but the individual parts are greater than their sum, and the script is overlong by at least 15 to 20 minutes.
Director Kent Nicholson's fluid staging realizes the text's demands, his quartet of actors surrendering to its flow while crafting distinctive characters. Aiding his work are Scott Bradley's clean, elegant set pieces, which glide silently into and out of our focus, and Alexander V. Nichols' emotionally enhancing lighting.
Bill is at once narrator, moderator, chronicler, referee, and, yes, priest, and Pierce projects a Stephen Colbert quality of cool irony wedded to considerable comedic irritation toward all things family. With teeth often gritted, the actor aptly gives us Bill's testy anger and acerbic nature. Gehringer builds her portrayal on realism. Her Mary is endearingly quirky—as maddening as most moms can be to their sons—but she can also be fierce, as in her defense of her obsessive work ethic and unquestioning faith. Gehringer highlights Mary's quiet pride and stubborn self-reliance.
Biehl isn't just the easygoing, nearly colorless Pete; he also functions as a sort of cheerful, uncomplicated everyman, playing various figures in the Cain family's lives (doctors, TV reporters, etc.). Aaron Blakely likewise takes multiple roles, the main one being Paul, Cain's athletic yet dramatically bland, often clichéd older brother.
Presented by and at South Coast Repertory, 655 Town Center Dr., Costa Mesa. Oct. 26–Nov. 18. (714) 708-5555 or www.scr.org. Casting by Joanne DeNaut.
Critic's Score: C