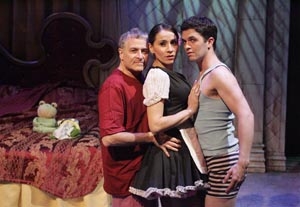 With all the trappings of a confectionary acid trip, director Jules Aaron crafts a sensory-teasing hallucinatory peek into the backstory of one of America's most enigmatic figures in Joan Beber's "Hunger: In Bed With Roy Cohn." Communist hunter Cohn, known for his association with Senator Joseph McCarthy and the trial and executions of Julius and Ethel Rosenberg, is no stranger to theatrical imaginings. Those expecting another in-depth assay may find Beber's world premiere a bit lacking in substance, but that doesn't seem to be her goal. Instead, she uses Cohn's tortured life as a jumping-off point. It's Aaron's excellent direction, aided by Kay Cole's captivating choreography, that makes this Brechtian leap, which Beber sets in purgatory, such a dazzling experience.
Barry Pearl is terrific as he presents Cohn's tragically constructed inner workings. Eschewing a fey take, Pearl is more the Bob Newhart Everyman engulfed in a surrealistic swirl of caricatured figures. By anchoring the production, Pearl offers some small port in an otherwise outrageously mind-bending storm of imagery. Furthermore, his extensive background in musical theater proves useful given Beber's inclusion of several vaudevillian interludes.
Remaining cast members inhabit an array of historical and imaginary characters. Cheryl David is a scenery-chewing delight as Cohn's controlling mother, Dora. Tom Galup provides a solid version of Pearl's friend and alleged lover G. David Schine. Liza de Weerd's Barbara Walters, the famous journalist, who was once romantically involved with the sexually conflicted Cohn, and David Sessions' stumbling Ronald Reagan are less impression and more charming goofiness. Jon Levenson, as the hauntingly hilarious specter of Julius Rosenberg, smoothly employs his impressive basso profundo voice. And in an epic display of physical expertise, Jeffrey Scott Parsons and Presciliana Esparolini give wing to Cole's erotically charged dances as Cohn's younger alter ego and his maid Lizette.
John Iacovelli's tiled boudoir set, complete with a Pandora's box of a bed, profits from Jeremy Pivnick's outstanding lighting, and Adam Flemming provides eye-catching projections. Shon Le Blanc's costumes and Max Kinberg's original music are two more feathers in this production's cap.
Presented by Linda Tolliver, Gary Guidinger, and Undercover Productions at the Odyssey Theatre, 2055 S. Sepulveda Blvd., L.A. Jan. 21–March 11. Fri. and Sat., 8 p.m.; Sun., 2 p.m. (Additional performances Thu., Feb. 23 and March 1, 8 p.m.) (310) 477-2055 or www.odysseytheatre.com.