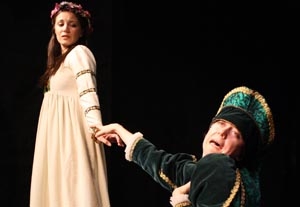 The Eclectic Company's one-act play festival and playwriting contest gets under way with this, the first of four two-week programs of plays competing for cash and other prizes. This outing consists of three plays. Michael Patrick Sullivan's
Mastermind
, directed by Susan Lee, centers on JD (Brad Wilcox), an amnesiac who fears he may be the archcriminal known as Mastermind, who has laid plans to blow up the city, and Liz (Beth Ricketson), the female reporter fascinated by him. Maria Markosov directs Kirsten Fatland's
A Lovely Day
, an allegorical fairy tale about a young woman known only as Daughter (Vanessa Rice), who, disillusioned by her demented family, sets out to find a better place—but at the end, she's still looking. And in Mira Gibson's
Master of None
, directed by Kerr Seth Lordygan, blustery but ineffectual Dale (Albert Stroth) goes to a tattoo parlor to get a bit of skin art from Doc (Biff Wiff) and takes along his obsessively talkative, Herbalife-selling wife, Kendra (Erin Treanor), and his two "flowery" (i.e. gay) sons (Mason Hallberg and Elan Garfias); family bickering and a father-son rapprochement follow.
Mastermind
has an intriguing premise, despite a rather ponderous structure, and it offers Wilcox a chance to display his versatility by playing both JD and Mastermind—and director–designer Lee provides him with a wonderfully bizarre costume for the latter role.
A Lovely Day
is a light but charming fable, in which Rice's winsome simplicity shows to great advantage, particularly because she's surrounded by an ensemble (Allie Costa, Gwendolyn Druyor, Kristi Koehl, Rendon Ramsey, and Zach Tewalthomas) that's mugging shamelessly, to the delight of a friendly audience.
Master of None
is a fragmentary genre piece, with wacky comedy and a nicely modulated performance by Stroth as the embattled paterfamilias.
Presented by and at the Eclectic Company Theatre, 5312 Laurel Canyon Blvd., North Hollywood. July 10–Aug. 23. Fri.–Sat., 8 p.m.; Sun., 2 p.m. (818) 508-3003.
www.eclecticcompanytheatre.org.