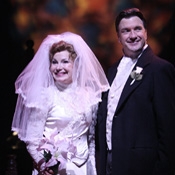 Harvey Schmidt and Tom Jones made a career of musicalizing plays and stories about romance and, in particular, relationships, making Jan de Hartog's The Fourposter a natural. His two-hander follows a couple, Michael and Agnes, from their wedding night in 1890 through the earliest years of their marriage and the birth of their two children to the inevitable wearing off of the honeymoon, as reality sets in. Its final scenes show the couple in late bloom, as their kids leave the nest. As they settle into old age, the couple sells their house in 1925 to a young couple just starting out.
Michael (Brad Little) is a vain, pompous writer; the less erudite Agnes (Barbara McCulloh) is spontaneous and has more joie de vivre. Their differing approaches to life create the marriage's most serious challenges. Schmidt and Jones' brief songs have the same charm and programmatic nature as the duo's most famous play, The Fantasticks; the most well-known song, "My Cup Runneth Over," is viable outside the musical's context. Schmidt and Jones are deeply sentimental, and this show is no exception.
Little and McCulloh are real-life spouses, giving the production verisimilitude and an obvious comfort level as a pair. Both are skilled light-comic actors with pleasing musical theatre vocal styles. In the initial scenes, Little's appearance suggests mid-30s rather than 26, and his demeanor and speaking rhythms come off as too contemporary, but as Michael ages, the actor adjusts his characterization. McCulloh's impish élan buoys the production, her Agnes suggesting the ingenuousness of a bygone era. Will MacKenzie's staging is breezy, spiced by Janet Watson's choreography and sight gags such as Agnes towing a 50-foot, baby-dud-bedecked clothesline from one end of the stage to the other. In the opening scenes, Lisa Zinni's costumes clothe both characters in generic garb that could be 1890s, 1950s, or 1990s. Only the gas lamps, furnishings, and large four-poster bed tell us we're in the late Victorian era. Jones' lyrics most fully tell the story of this couple. He and Schmidt have an unerring sense of the bumps in the matrimonial road -- and its many blessings.
Presented by McCoy Rigby Entertainment at and in association with La Mirada Theatre for the Performing Arts,
14900 La Mirada Blvd., La Mirada.
Tue.-Thu. 7:30 p.m., Fri. 8 p.m., Sat. 2 & 8 p.m., Sun. 2 & 7 p.m. Apr. 11-27. (562) 944-9801 or (714) 994-6310. www.lamiradatheatre.com.