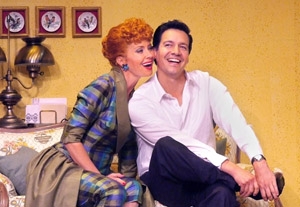 Many baby boomers will recall being glued to their television sets Monday nights, enjoying first-run broadcasts of the Eisenhower-era sitcom "I Love Lucy" (1951–57). This pioneering series still enchants fans across the globe, where it lives on in reruns. The premiere staging of director Rick Sparks' music-filled pastiche is more successful at conjuring fond memories than at delivering a fully satisfying entertainment.
Sparks and co-adapter Kim Flagg offer slightly rewritten versions of two scripts from the series' first season, along with campy re-creations of vintage commercials (such as ones for Alka-Seltzer and Chevrolet) and musical sequences. We're supposedly at a live studio taping, complete with a jovial host (Mark Christopher Tracy), spectators among us who end up onstage, and a simulated Ricky Ricardo Orchestra.
The burning question: How do the actors fare at tackling the iconic roles of Cuban bandleader Ricky Ricardo (created by Desi Arnaz; played by Bill Mendieta), his scatterbrained but lovable wife, Lucy (created by Lucille Ball; played by Sirena Irwin), and their bickering landlords, Fred and Ethel Mertz (created by William Frawley and Vivian Vance; played by Bill Chott and Lisa Joffrey). This cast smartly avoids mimicry, yet one would expect some solid chemistry—something to hint at the magic of the original ensemble. Unfortunately, comic timing and characterizations are lackluster here. Irwin comes closest to scoring, giving us a taste of Lucy's crazy-like-a-fox conniving and a slight vocal resemblance. Yet her brief crying bout feels obligatory. Mendieta is proficient at depicting Ricky's impenetrable Cuban accent, but where is that explosive Latin temper? Also missing in this adaptation are Fred's perpetual penny-pinching and the endless battle of underdog Ethel to earn respect from her wisecracking spouse.
The episodes selected aren't prime Lucy. There's little that allows Irwin to suggest Ball's physical-comedy genius, which has justifiably been compared to Charlie Chaplin's. A climactic sequence in which Lucy does a jitterbug at Ricky's nightclub after being blinded by an optometrist's eye drops doesn't erupt into hilarity and is over in a flash.
The terrific design elements (Aaron Henderson's set, Shon LeBlanc's costumes, Jeremy Pivnick's lighting, Cricket S. Myers' sound, Byron J. Batista's wigs and makeup) are more evocative of the series and the era than are the characterizations. A large singing-dancing ensemble is appealing, and Wayne Moore's music direction and arrangements are excellent. Sparks' conception has promise. If further work is ahead, rethinking the episodes included seems the first step.
Presented by S. Kahn Presents and Millrock Company in association with CBS Consumer Products at the Greenway Court Theatre, 544 N. Fairfax Ave., L.A. Oct. 1-Jan. 1, 2012. Fri., 8 p.m.; Sat., 3 & 8 p.m.; Sun., 7 p.m. (323) 655-7679. www.ilovelucylive.com.