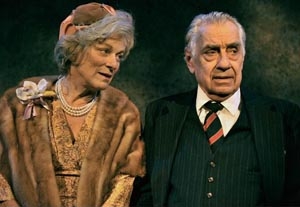 Robert Anderson's classic family drama "I Never Sang for My Father," about a son's longing for a father's love, gets a heart-wrenching, luminous outing featuring the talents of an extraordinary cast under the direction of Cameron Watson and capped by an inspirational performance by Philip Baker Hall. The play opens as Gene Garrison (John Sloan), a young, recently widowed college professor, is picking up his aging parents, Margaret (Anne Gee Byrd) and Tom (Hall), at the train station as they return to New York after a winter in Florida. Tom, the family patriarch, is a cantankerous self-made man who is not going gently into the good night of old age. For her part, Margaret has a long-suffering patience for her husband and a deep devotion to her son.
As the play proceeds, Gene is torn apart by his desire to start a new life in California and his guilt over abandoning his frail and ill parents. His mother urges him to go, while his father clings desperately to his son, even as he belittles him and proclaims loudly that he doesn't need anyone to help him. When Gene's mother dies, the son is left alone to resolve his conflict and decide his destiny.
The play is deeply moving and remarkably timely, considering the well-trod dramatic territory it covers. Watson wisely steers the cast to the essential and unvarnished truths of the play, and these magnificent performers take up the challenge with gusto. Sloan is wonderfully understated and focused in his performance, striking exactly the right tone and refusing to follow any impulse toward sentimentality. Byrd is remarkable as the mother, fully inhabiting the character while providing a gentle, guiding hand to the story.
The supporting cast includes Dee Ann Newkirk in a vivid turn as Gene's sister, as well as fine performances by John Combs, Brittani Ebert, Tim Halligan, Paul Messinger, and Chelsea Povall. But the crowning achievement of the production is the work of Hall, transcendent in his portrayal of this dying raging bull of a man. Hall brings an aura of reality and universality to this character and stitches the role indelibly into the theatrical firmament. It is a historic performance.
Presented by the New American Theatre at McCadden Theatre, 1157 N. McCadden Place, Hollywood. Through May 22. Fri.–Sat., 8 p.m.; Sun., 3 p.m. (No performance Sun., April 24). (310) 701-0788 or www.newamericantheatre.com.