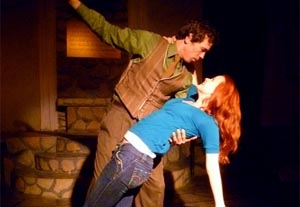 It's easy to see how "The Canterville Ghost," Oscar Wilde's 1887 short novel, would appeal to musical theater authors. An English manor haunted by a bluffly threatening specter, whose various alter egos fail to scare away the American clan that takes up residence? It's a natural for adaptation, which makes Doug Haverty and Adryan Russ' wildly conventional take all the more perplexing.
There's intelligence on tap, to be sure. Composer Russ has a knack for pleasant tunes, on which his and Haverty's lyrics sit with post–Lehman Engel proficiency. Moreover, on the face of it, Haverty's libretto rethinks Wilde's narrative in 21st-century terms by dropping the Otis family, save for daughter Virginia (Rebecca Johnson), here a fearless college art student on a work-study program. Ensconced in country house Canterville Chase, Virginia finds herself caught between modern-day Canterville heir Trevor (Zachary Ford), who faces the loss of Canterville Chase for unpaid taxes, and the titular spirit, Sir Simon (Peter Welkin). Simon has been waiting for nearly a century to break the curse his late wife (Dorrie Braun) heaped on his head the night she met her maker. The caretakers Mr. and Mrs. Umney (Paul Zegler and Bonnie Snyder) spell out some of these details; the rest come from Trevor and the ghost. A dual romance unfolds within the quest saga that ensues.
Unfortunately, the authors make storytelling and song-placement decisions that skew toward banality, from Virginia's iPod as source of contact with—or failure to perceive—the ghost, to the inexplicable decision to jettison Sir Simon's various characterizations, seemingly a natural for a virtuoso star turn. Nevertheless, it's capable work, and there's considerable talent on display, which director Jules Aaron, choreographer Allison Bibicoff, and musical director Richard Berent make as much of as possible.
Johnson, whose physicality suggests the missing Deschanel sister, has a solid musical theater voice, unforced spunk, and a pleasing connection with Ford, who resembles a singing, dancing Henry Fonda. Similarly, Welkin's suave presence and resonant baritone carry their own interest, though he has too few opportunities to interface with crystalline soprano Braun. Snyder and Zegler do yeoman's work to bring the Umneys to life beyond the seriocomic sidekick aspects as written. Andrew Appel, Erin Carter, Kayla Dillman, Courtney Freed, Matthew Frow, Tyler Milliron, and R. Scott Thompson constitute the valiant ensemble, their choral blend especially potent, which makes the missed opportunities of this well-intended but generic piece doubly regrettable.
Presented by and at the Lyric Theatre, 520 N. La Brea Ave., L.A. May 20–June 18. Fri.–Sat., 8 p.m. (Also Sun., 7 p.m. June 5 & 12.) (626) 695-8283. www.brownpapertickets.com/event/169940.