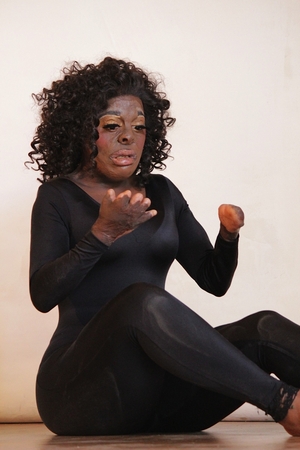 What would it be like to go through life as the survivor of a deadly tragedy? Actor-author Afia Fields knows first hand. She offers a glimpse into her difficult past and her daily challenges in the one-woman show "I'm Dop3!"
At age 3 Fields sustained third-degree burns on most of her body after a fire broke out in her home, killing her baby brother and young cousin. She lost her fingers and was left badly scarred. She was in a coma for three months and awoke to a lifetime of struggles. Her injuries came along with mean remarks from kids at school, stares from strangers on the street, and the knowledge that no matter how much she loves performing, she'll probably never play Juliet. Still, Fields insists, she is a survivor, not a victim.
Fields' story is deeply emotional and personal, but it is hopeful, not tragic. There is no hiding her positive outlook, strong personality, and witty humor. "I'm the fourth Kardashian," she says at one point in the show, twirling around dramatically and puckering her lips. "I'm Beyoncé," she says in another scene, flipping her hair. Toward the end she holds up her hands, which are without fingers, and brags that she can use them for driving, getting dressed, and even typing. As she puts it, "You guys call it disabled. I call it amazing."
At 22 Fields already has the composure of a seasoned performer. She easily takes command of the stage, not a small task in a solo show. Director Debra DeLiso has coached hundreds of actors for one-person offerings, and her direction reveals a keen understanding of what works. The pacing is just right; Fields never gets stuck in long monologues or scenes without action. The proceedings are also delightfully varied. Fields re-enacts the scene of the fire that changed her life, but she also sings, dances, and mimics her friends and teachers. The mix of performance elements suits her personality and keeps the audience engaged.
Fields' show is less than an hour in length, which doesn't quite give it enough time to sink in. As soon as we learn the beginnings of her story and begin to get a sense of her personality, the evening ends. Extended, it could be even more powerful. As it is, "I'm Dop3!" is a thought-provoking and hopeful tale that is well worth sharing.
Presented by SAIPRO at the Elephant Studio Theater, 1076 Lillian Way, L.A. Dec. 7–Jan. 19. (443) 928-5941 or www.saiproarts.org.
Critics Score: A-