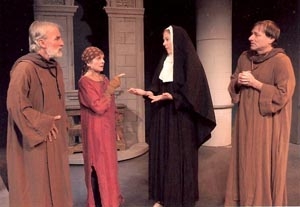 Michael Hollinger's daffy farce is set in the mid-13th century, at a little monastery in France that has fallen on hard times. The buildings are falling apart, the bones of St. Foy have lost their miraculous healing powers, pilgrims have stopped visiting the shrine, donations have ceased, and the monastery is going broke. The abbot, Brother Charles (Robert MacKenzie), attributes the loss of the saint's healing powers to his own loss of faith. But the mercenary Brother Martin (Michael Bonnabel) is more concerned with generating income, by fair means or foul, and engineering a visit from the pope to restore the monastery's lost prestige and income. With the aid of an inept, one-eyed minstrel named Jack (Shawn Savage), they sell the bones of a murdered moneychanger to a gullible religious house as the remains of a saint. This proves so profitable that soon they're running a monastic chop shop, digging up dead parishioners and selling off their bones as holy relics, shipped all over Europe via DeadEx. By the time the convoluted plot plays out, there's a genuine miracle, long-separated lovers are reunited, and the good brothers have joined forces with the larcenous Mother Superior (Julie Sanford) of a neighboring convent in order to con the pope.
Hollinger's play might be deemed blasphemous if it weren't so outrageously absurd, and director Paul Millet stretches the bounds of farce past credibility, but he keeps the laughs coming. Jeff G. Rack's handsome, simple set and Christine Cover Ferro's clever costumes preserve the lighthearted medieval flavor.
Bonnabel as the peppery, would-be authoritarian Martin and MacKenzie as the conscience-stricken abbot ably head the lively cast. David Reynolds is owlishly earnest as the burly, dimwitted monk-of-all-work Brother Olf, and Esther Levy Richman makes a nagging gadfly of the old peasant woman, as devious as the monks, who pimps out her comely daughter (Kate Janson). John T. Cogan is stalwart and appealing as lovelorn Brother Felix, who joined the order after the supposed death of his ladylove, and Savage makes minstrel Jack into the blundering mainspring that keeps the plot in motion.
Presented by Theatre 40 at the Reuben Cordova Theatre, 241 Moreno Dr., Beverly Hills. April 17–May 21. Repertory schedule.
(310) 364-0535 or
www.theatre40.org
.