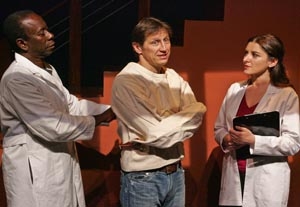 Remember the one about the man believed to be crazy and the associated themes—pondering the questions of who is truly "crazy" among us and whether passion and individuality can be mistaken for derangement? You might be thinking of
King of Hearts
or
Man of La Mancha
. Yet, in this new musical, which primarily takes place in a psychiatric institution, the most obvious association is with
One Flew Over the Cuckoo's Nest
. James J. Mellon (librettist and co-lyricist) and composer-lyricist Scott DeTurk have created disarming intimate world-premiere tuners in recent years (
Dorian, The Ghost and Mrs. Muir
), but their latest collaboration—based on a concept by Larry Russo—falls short. This attempt to offer what amounts to a variation on
Cuckoo's Nest
, stirring in a satire of Hollywood filmmaking, comes across as less than revelatory. An uneven musical score further adds to the
disparate combination of elements. Insanity's key failing is dramaturgic schizophrenia.
Accomplished actor-singer Kevin Bailey makes a valiant effort as the misunderstood artiste, horror-film director Zarek Saxton, whose desire to elevate his works to more-eloquent fare are vehemently opposed by crass studio honcho Ramsey Hawking (Bob Morrisey). After Saxton commits an unquestionably bizarre act, he is taken to a Malibu clinic for a 72-hour observation. Hawking jumps at the chance to persuade Dr. Megan Goodman (the captivating Dana Meller) to declare Saxton insane, so he will be taken off his current film project. Saxton's plight brings back memories for Goodman of her ex-husband, an actor, and a subsequent tragedy in her life, leading her to a moral dilemma. Besides creditable work from Bailey and Meller, supporting turns by Alex Robert Holmes and understudy Kathryn Percival are standouts, and the design elements are excellently rendered.
Unfortunately, the production awkwardly juggles somber drama and glib comedy, and the clumsily integrated songs—mixing reflective ballads, soft-shoe ditties, group numbers, and even rap—further forestall a cohesive tone. In an early scene, the dialogue aptly underlines this vehicle's contrivances, when one character tells Hawking—an unlikable character who has jarringly launched into a feel-good number—to stop his song and dance.
Presented by the NoHo Arts Center Ensemble at the NoHo Arts Center, 11136 Magnolia Blvd
.,
North Hollywood
.
June 26
–
Aug. 9. Thu
.–
Sat
.,
8 p
.
m
.;
Sun
.,
3 p
.
m
.
(
818
)
508-7101, ext. 7 or www
.
thenohoartscenter
.
com
.