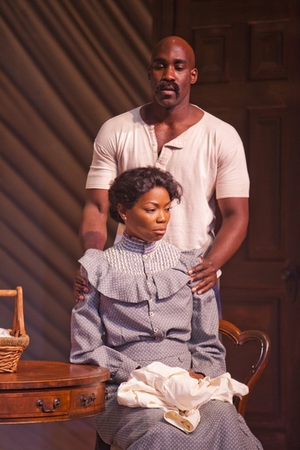 References to hands, fingers, touch, and texture saturate "Intimate Apparel," the play Lynn Nottage wrote before she won the Pulitzer Prize for "Ruined." Esther Mills, the African-American seamstress who crafts elegant lingerie for whores and high-society housewives alike, knows fine Japanese silk when she runs it through her fingers. Far less familiar to our emotionally battered heroine—and far more desirable—is the loving caress of another human being. When she can't receive such a touch, Esther steals one for herself, surreptitiously, from a person she should not be touching. If asked, our heroine would consider this stolen contact her due.
In the handsome if occasionally overreaching revival at the Pasadena Playhouse, Vanessa Williams wrestles Esther into uneasy submission. Nottage has written a character who is at her core rather uncomplicated. Williams (of "New Jack City," not the one from "Ugly Betty") fluffed a few too many lines on opening night and took a while to locate Esther's emotional depths. Post-intermission, however, the actor seemed to find the lady's layers, and the production sparked accordingly. Dawnn Lewis, Angel Reda, Adam J. Smith, David St. Louis, and Kristy Johnson round out a splendid cast for director Sheldon Epps. Thanks largely to the ensemble work, "Intimate Apparel" packs a stronger punch than the Roundabout Theatre Company production that visited L.A. eight years ago with Viola Davis.
In a world full of beautiful blooms, Esther is a discontented wallflower who happens to construct the very items that give these lilies their sheen. The corsets, negligees, and other unmentionables built by Esther (smoothly realized by costume designer Leah Piehl) are the types of garments that cause the wearers to giddily—and, yes, guiltily—stroke their bodies. When Mrs. Van Buren (Reda), neglected by her Fifth Avenue husband, gets all tarted up, out flood all her secrets. Mayme (Johnson), a black prostitute nursing dreams even more pipelike than Esther's, wears the lingerie with more confidence. At least she knows she'll get a man's embrace.
Mrs. Van Buren and Mayme may be of different classes, but, as women of 20th-century New York, they're equally trapped, and they can both be of use to Esther in reading and composing letters to Esther's admirer, a Panamanian worker named George Armstrong (accent on the second syllable). Reading these letters from afar, David St. Louis' George cuts a dashing figure in his white suit and pours equal parts honey and musk into every sensual syllable. George may be Esther's last best chance at escaping a life of loneliness. Or he may not.
The series of events that leads to Esther's resolution, if somewhat predictable, was enough to get an engaged audience murmuring, gasping, and muttering. That's to Williams' credit. The character's got a lot of baggage and a lot of backbone. Williams carries both with equal finesse. She wears it well.
Presented by and at the Pasadena Playhouse, 39 S. El Molino Ave., Pasadena. Nov. 11–Dec. 2. (626) 356-7529 or www.pasadenaplayhouse.org. Casting by Michael Donovan.
Critic's Score: A-