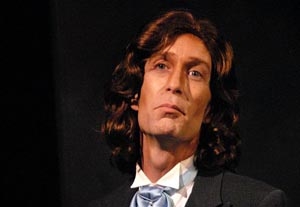 The plain facts of Oscar Wilde's life are a real-life morality play, about a man brought low by his own arrogance and foolhardiness. In 1894 the irascible Marquess of Queensbury (Tim Polzin) became enraged by the fact that his son, Lord Alfred Douglas (Ryan Michael Hartman), known to his intimates as "Bosie," was publicly involved with the scandalous Wilde (Tim Thorn). The marquess responded with several attempts to embarrass Wilde, including a visiting card left at Wilde's club, addressed to "Oscar Wilde, Posing as Somdomite [sic]." Wilde, egged on by the petulant, egocentric Bosie, decided to sue Queensbury for libel—despite Wilde's decidedly ambiguous reputation and that the allegation of sodomy was close to the truth. Friends urged Wilde not to pursue the suit and predicted that even if his cause were just, he would lose in court. Egged on by Bosie, whose hatred of his father was intense, Wilde pressed on and brought disaster down on his own head.
Here, writer-director Terra Taylor Knudson sets out to dramatize this fascinating tale. One can't quarrel with her decisions to simplify it—to make it viable on stage—and to sometimes depart from the facts; plays are not history. But in the course of adapting the story, she has shorn it of its larger implications. Her play becomes merely a series of scenes—some of them quite capably written—that are closer to soap opera than morality play. She gives us the familiar highlights of the three infamous trials, sketches in the relationship between Wilde and Bosie, and suggests the tensions between Wilde and his long-suffering wife, Constance (Taylor Knudson). But nowhere does she suggest Wilde's intellectual stature, the depths of his pain, or the complexity of his relationships.
The production is competent and the actors capably perform the roles written for them. But there are no revelations here. Thorn suggests Wilde's outrageousness and urbanity, despite an overly romantic wig, and Hartman captures Bosie's arrogant, obnoxious charm. Taylor Knudson provides a solid but conventional portrait of the wronged wife.
Presented by Olio Theatre Works Inc. at the Lyric Theatre, 520 N. La Brea Ave., L.A. Aug. 15–Sept. 13. Thu.–Sat., 8 p.m.; Sun., 2 p.m.
www.brownpapertickets.com.