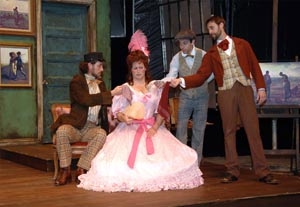 Once you get past the fact that this "new" 1898 play by Mark Twain is receiving its West Coast premiere 111 years after it was written, its tale of the European art scene circa the mid-19th century is quite strikingly contemporary. For this we can thank David Ives, who adapted Twain's recently discovered manuscript for the stage, lending it a number of subtle inflections. What seems at first a rather silly story about French artist Jean-François Millet's fictional inability to find a financially appreciative audience for his masterworks evolves into a meditation, albeit a farcical one, on the nature of celebrity—specifically, that the dead are more quickly elevated into the pantheon than are the living. Millet's buddies convince the artist (played with clean-cut earnestness by Perry Ojeda) to fake his own death to quickly inflate the value of his paintings. Millet agrees, but not wanting to disappear or go underground, he resurfaces—as his twin sister.
Director Shashin Desai deserves bonus points for taking on something that's essentially a twist on
Charley's Aunt
with the added flavor of Feydeau. Desai's sterling cast gives shape, color, and meaning to Twain's ideas and Ives' words, apparently having never met an episode of
Bosom Buddies
or films like
Some Like It Hot
they didn't like. Just when you're convinced Ojeda's bland façade is a fatal misstep by actor and director, he begins to hit his stride while disguised as "Daisy." Brian Stanton stands out as Millet's less-talented (other than the gift of gab) American artist pal, and as Millet's pupils (a Dutchman and an Irishman), Chip Bent and Blake Silver are fine farceurs. Joe Fria breathes demented life into several cartoonish characters. Kudos also to Stephen Gifford's imaginative and ingenious scenic design, transformed during intermission from Millet's cluttered studio in Barbizon to Daisy's chic Parisian drawing room.
Presented by and at International City
Theatre, Long Beach Performing Arts Center, 300 E. Ocean Blvd
.,
Long Beach
.
May 1
–
24. Thu
.–
Sat
.,
8 p.m
.;
Sun
.,
2 p.m
.
(
562
)
436-4610 or www.ictlongbeach.org
.