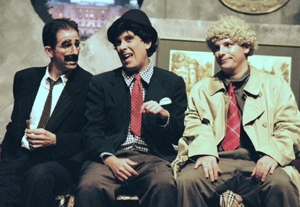 Audiences who fondly remember the 1920s-40s screwball-comedy films of the Marx Brothers will get a kick out of this breezy musical. Composer-librettists Steven A. Muro and Dan W. Davis have devised a wisp of a plot about Nazi spies invading a Washington, D.C., home. The hook is that the zany crime-scene investigators mimic the most famous three of the Marx siblings, in roles designed to fit their familiar comedic personas, just as their film roles did.
Director-choreographer Robert Petrarca's strongest suit is the rib-tickling work he elicits from a spirited cast. Although the book is amusing, its diffuse segments seem closer to a series of vaudeville sketches than a story. Though this is admittedly reflective of the films being recalled, the lack of a solid narrative makes the slapstick antics feel repetitive. The initially fine comic timing becomes erratic in the home stretch. The nine songs aren't showstoppers, but they're catchy. Paul Taylor's music direction is superb, and the numbers are well-sung.
Thankfully, the performers maximize the fun. Davis' channeling of Groucho Marx is inspired, playing cockeyed coroner Dr. Milton P. Malpracticus. Decked out in spectacles and a thick mustache and even thicker eyebrows that he regularly arches, and with that famous stooped-over stroll and his cigar, Davis beautifully captures Groucho's deadpan drollery. The script allows him plenty of choice fourth wall–shattering moments to share wisecracks with the audience. Almost as fine is Adam Miller's rag mop–coiffed goofball Lucky (aka Harpo), prone to perpetual mischief and wide grins, as he dashes around the house honking a horn and chasing the babes. As the wheeling and dealing Notelli Bordello (aka Chico), John Albert Price also elicits solid laughs.
Adding to the fun are Dimitri Toscas' drag portrayal of the battle-ax matriarch, Allene Quincy's suspicious ball-busting housemaid, Kyle Nudo's snooty butler (a Nazi infiltrator in disguise), Erin Daigle and Stephen Vendette as sappy young lovers, and John Welsh as a murdered scientist.
David Goldstein's set and lighting and Rachel Stivers' costumes lend the enterprise sheen. This piece is well worth the retooling that we hope is to come.
Presented by Golden Performing Arts Center at the NoHo Arts Center, 11136 Magnolia Blvd., North Hollywood. June 12–July 11. Fri.–Sat., 8 p.m.; Sun., 3 p.m. (818) 340-2538. www.itstopsecretthemusical.com