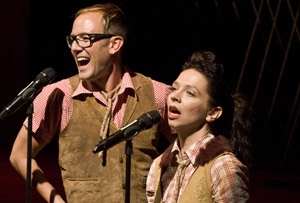 The determinedly iconoclastic Rude Mechs troupe from Austin, Texas, returns to the Kirk Douglas Theatre with a project that sounds quite unlikely for the edgy company—a boy-meets-girl Western musical with a happy ending. But don't go expecting "Annie Get Your Gun" or "Oklahoma!"
This country-and-western jamboree often mimics Bertolt Brecht's presentational style, accentuated by subtitles that spell out details about the characters and themes, as well as projected images that incorporate fetching animated cartoon characters (courtesy of Miwa Matreyek) and other visual gags. Underlying these flashy trappings is an attempted homage to the rural American West. One's willingness to go along with the peculiar proceedings will require sitting through repetitive and drawn-out songs delivered by mostly unpolished singers, a minuscule and meandering plot, and an overall lack of coherency.
A supposedly funny but actually quite abusive patriarch, Brutus (Lowell Bartholomee), who runs a TV-variety-show hoedown, refuses to let his singing daughter Annabellee (Meg Sullivan) leave the nest to seek love and happiness. Meanwhile, mean matriarch Julie (Cami Alys) throws her son Jeremy (E. Jason Liebrecht) out of the "wymen's" commune where they reside so he can learn to be a man, tying him to the tail of a mountain lion. During the couple-to-be's convoluted journey to happily-ever-after, two competitive-racing dachshunds (Jenny Larson and Paul Soileau) play a role in the protagonists' ultimate union, and a butch female sheriff (Kerri Atwood) is also on hand to express her hick philosophies.
Lyricist-librettist Kirk Lynn and co-lyricist–composer Peter Stopschinski haven't crafted show tunes to hum on the way home, and Dayna Hanson's choreography—dominated by monotonous line dancing—won't have Twyla Tharp shaking in her boots. True, the point of this muddled exercise was clearly a deconstruction of musical theater conventions, but nothing very entertaining or clever has been constructed in their place.
The Mechs company has proved itself prodigious at creating invigoratingly original and thought-provoking theater, accented with a crisp sense of humor, as in its June staging of "The Method Gun" at the Douglas. This new production feels criminally indulgent, esoteric, and perhaps better suited to a 30-minute fringe festival project. For some attendees, the musical meltdown will likely engender the sort of ennui derived from unexpectedly stumbling into a private party.
Presented by Center Theatre Group at the Kirk Douglas Theatre, 9820 Washington Blvd., Culver City. Oct. 8-23. Thu.-Fri., 8 p.m.; Sat., 3 & 8 p.m.; Sun., 2 & 7 p.m. (213) 628-2772. www.centertheatregroup.org.