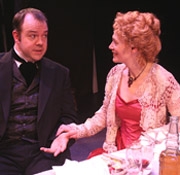 Snow has a way of covering things up, like a blanket, as it were. What lies beneath, however, is not warm and fuzzy, but icy and cold -- the harsh, unforgiving ground and the well-preserved detritus of a long season of blight. How easy it is to skate over the forgotten landscape and get lost in the beauty of the whitewashed world. Yet when the thaw comes, all manner of things come creeping back to life. So it is with the living and the dead.
And so it is with James Joyce's The Dead, a quirky, sad story of a gathering of old friends and family on Epiphany Evening in 1904 Dublin. Adapted by Richard Nelson and Shaun Davey, this play with music was given its Broadway premiere in 2000. A new production by the Open Fist Theatre Company has several fine performances -- essential for a character-driven play that relies upon performances and parlor songs to illuminate its themes -- yet does not include enough accomplished singers to carry the weight of the production or make us believe that these characters have a long history of singing together. Director Charles Otte manages to find moments of beauty and pathos in a piece that is not well-suited to his company's abilities, and since so much of the play depends upon the songs, which are haunting and heartbreaking, it is disappointing that the execution falls short of great musicality.
Rob Nagle as Gabriel Conroy gives a compelling and sensitive performance. His vocal stability is challenged when he gets caught up in the emotion on the final number, "The Living and The Dead," but his depth of commitment is a joy to watch. Jacque Lynn Colton as Julia Morkan provides a poignant portrait of a woman at peace with herself and her family. Martha Demson as Gretta brings appropriate melancholy to her performance but misses a chance to shine in "Goldenhair," a pivotal moment in the show not only for her character but also for the dramatic thrust of the play. Lily (Kendra Chell) is delightful when she joins unabashedly in "Three Jolly Pigeons" with a likable Freddy (played touchingly by Michael Franco).
Christine Sang's choreography is creatively designed for actors with limited dance skills. The set by Kis Knekt and costumes by Christina Wright serve the production well with nice period details. Music director Dean Mora's band keeps the music flowing throughout the play, and their presence on stage is welcome.
Presented by and at the Open Fist Theatre Company,
6209 Santa Monica Blvd., Hollywood.
Fri.-Sat. 8 p.m., Sun. 3 p.m. Feb. 8-Apr. 12.
(323) 882-6912. www.openfist.org.