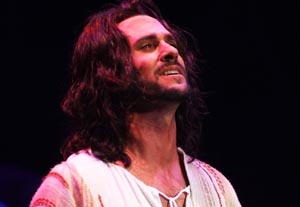 The 1973 Broadway premiere of Andrew Lloyd Webber and Tim Rice's rock opus was widely criticized for turning the duo's hip though spiritually reverent concept album into a gaudy circus of Great White Way overkill. The somewhat sympathetic portrayal of Judas Iscariot and the image of Jesus Christ as a rock idol led to complaints of sacrilege, but the biggest outcry was against the overblown staging. To director Stephanie A. Coltrin's credit, this well-sung revisit favors tasteful restraint. Eric Kunze's stellar turn in the title role is the highlight in this generally satisfying rehash of an oft-performed crowd pleaser.
This retelling of the Gospel story of the last week of Jesus' life, beginning with his arrival in Jerusalem and ending with the crucifixion, centers on the political and personal struggles between Jesus and Judas, conveyed with a distinctly modernistic slant. Some elements of this piece strike resonant chords in relation to contemporary world events, yet the primary themes feel timeless, illuminating the challenges of finding genuine faith and the capricious nature of mob mentality.
Kunze sings with great skill and passionate conviction. His characterization hits all the right notes of humanity for us to accept Christ as a fallible, feeling human rather than a religious icon. His stirring rendition of "Gethsemane" is particularly affecting. Karole Foreman's lovely singing voice as Mary Magdalene powerfully expresses the compassion and pain in "I Don't Know How to Love Him," and her "Everything's Alright" eloquently evokes maternal comfort. Likewise formidable in voice and characterization are Kevin Bailey's conflicted Pontius Pilate, Josh Tower as the tormented Judas, and Jody Ashworth as the ruthless Caliaphas. Harrison White does something wonderful with "King Herod's Song"—maintaining the camp to provide needed comic relief, while subtly anchoring his portrayal to avoid the drag-show sensibility that sometimes trivializes this crucial moment.
Christopher Beyries' modern-industrial set provides a functional and appealing backdrop for the action. Darrell J. Clark's lighting enhances the drama, and Christa Armendarez's costumes are imaginatively rendered. Music director Alby Potts leads a superb orchestra, and Marc Oka's choreography is inventive. Some scenes feel more mechanical than spontaneous, but all in all, this is a worthy revival.
Presented by Civic Light Opera of South Bay Cities at the Redondo Beach Performing Arts Center, 1935 Manhattan Beach Blvd
.,
Redondo Beach
.
April 25
–
May 10. Tue
.–
Fri
.,
8 p.m
.;
Sat
.,
2 and 8 p.m
.;
Sun
.,
2 and 7 p.m
.
(
310
)
372-4477 or www.civiclightopera.com
.