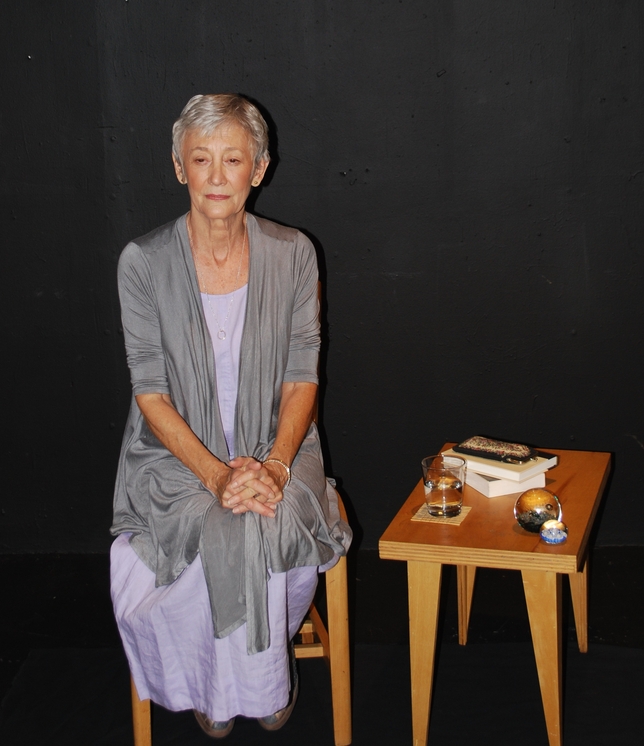 The difficulty of "The Year of Magical Thinking," Joan Didion's memoir-turned-play that premiered on Broadway in 2007 starring Vanessa Redgrave, is that it is at times too much talking and not enough theater. In the play's Los Angeles premiere, Judy Jean Berns takes on the central role, giving a strong performance that's able to meet most of the script's challenges.
The one-woman drama chronicles a year in Didion's life surrounding the deaths of her husband, the writer John Dunne, and their only daughter, Quintana. As she struggles with grief, Didion allows herself to slip into "magical thinking," a kind of hopeful logic that lets her believe that if she doesn't throw away her husband's shoes he may come back, or if she avoids driving past her daughter's high school she won't have to revisit painful memories.
The California scribe, who has had a long career as a journalist, novelist, and screenwriter, is known for her graceful command of language, and "The Year of Magical Thinking" maintains her distinctive voice. But even while the script gives the actor beautiful, poignant words to recite, it offers her almost nothing to do onstage.
For the most part director David Robinson works around that challenge, taking a minimalist approach by putting Berns on an empty stage in a wicker chair, where she remains for nearly all of the show's 90 minutes. Inevitably, the production has moments when it becomes flat or one-note, but even with little staging it manages to hold the audience's attention.
Berns deserves a lot of credit for creating that connection. Addressing the crowd conversationally, her Didion is appropriately understated, cool, and composed. When she speaks of heartache and says, "It will happen to you," you listen, and you believe her. Berns lends dignity to a character in panic. She also brings out Didion's subtle moments of dry humor without overemphasizing them. But the biggest reason that Berns wins favor with the audience is that she doesn't attempt to impersonate Didion; rather, she creates her own character.
What's missing is a clearer arc, something Robinson and Berns might have found with more rehearsal time. Berns' Didion never seems to change. When the actor is able to take the audience on a more complete emotional journey, her performance will be memorable rather than just enjoyable.
Presented by Bright Eyes Productions at Elephant Stages, 6322 Santa Monica Blvd. Los Angeles. Sept. 8–Oct. 14. Fri. and Sat., 8 p.m.; Sun., 4 p.m. (323) 960-7774 or www.plays411.net.
Critic's Score: B