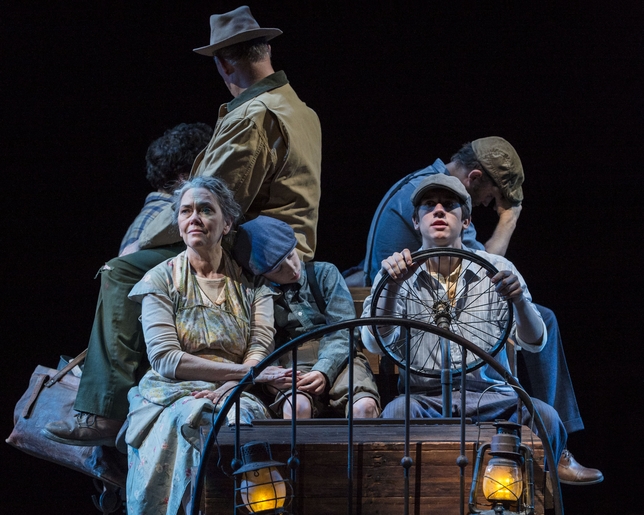 There's a reason why "The Grapes of Wrath" is a classic. The story's themes—endurance, sacrifice, and family—are no less powerful today than they were 74 years ago, when John Steinbeck penned the book and won a Pulitzer Prize for it. A Noise Within's stellar production of Frank Galati's 1990 Tony Award–winning stage adaptation honors the novel's messages, bringing the work to the stage in a way that is sincere, memorable, and deeply relevant.
The well-known tale follows the journey of the Joad family, an impoverished brood of Oklahoma sharecroppers. Fleeing the devastation of the Dust Bowl, they pile into a truck and head to California seeking farm work. But the Golden State isn't the land of riches they had hoped for.
Like Steinbeck's novel, the show is long—almost three hours—but Michael Michetti's inspired direction makes the production a pleasure to watch. With creative staging, Michetti brings the Joads' cross-country trek to life. He keeps the stage constantly crowded and maintains mellow pacing, making the frustrating conditions that the Joads face visible to the audience. Best of all, his actors perform confidently and appear tightly knit.
As Ma, Deborah Strang is a leader of the cast, just as her character is a leader of the Joads. Demanding attention right from the start, Strang plays a woman in degrading circumstances with dignity. Ma's determination to keep her family together feels urgent and real. As Tom Joad, the story's protagonist, Steve Coombs masterfully plays subtle frustration, always giving the sense that Tom's anger is bubbling under the surface. Matt Gottlieb stands out as Jim Casy, a down-on-his-luck ex-preacher. Casy's speeches are the play's most philosophical, but Gottlieb delivers them naturally and without pretense. Another noteworthy performance is that of Lili Fuller as Ma's teenage daughter, Rose of Sharon. Fuller skillfully develops her character, beginning as a naive youngster but hardening into a selfless, mature heroine by the tragic final scene.
Many actors in the ensemble prove to be multitalented, performing live bluegrass music throughout the show. Their singing, fiddling, and strumming not only create atmosphere and tie the scenes together beautifully but also allow a creative approach to sound design. For example, when Al Joad (Andrew Hellenthal) starts up the family truck, a twanging guitar is the sound of the noisy engine.
Melissa Ficociello's sparse, dusty-looking set provides a powerful, thought-provoking backdrop for a play about learning to do without. The family truck—a character in its own right—is an imaginative design highlight. As the Joads pack their belongings in Oklahoma, they build the jalopy before our eyes. Suitcases serve as seats, two kerosene lanterns are suddenly headlights, and a blank but beautifully lit stage (lighting by Elizabeth Harper) becomes an imaginary Route 66.
A Noise Within has done justice to Steinbeck's masterpiece, inviting the audience along on the Joads' odyssey, paving the way with strong direction, phenomenal performances, and gorgeous technical elements. It's heartbreaking, but it's a hell of a ride.
Presented by and at A Noise Within, 3352 E. Foothill Blvd., Pasadena. Feb. 23–May. 11. (626) 356-3100 or www.anoisewithin.org.
Critic's Score: A