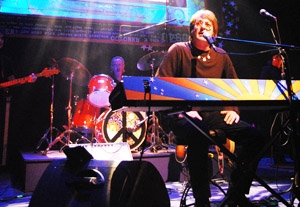 As a piece of theater, there's not much to praise, and as a concert, there's nothing to fault—which is better than the other way around, because three-quarters of this world premiere is music. Writer-performer Tim Piper may not display much acting range, but he and the other four members of his band deliver authentic renditions of some of the most popular songs by the Beatles and John Lennon.
Piper, who has appeared as Lennon in tribute bands and a few TV movies, looks like the music icon who was killed in 1980. Piper's speaking voice isn't much of a match, but he captures the essence of the man. There's no plot in this Steve Altman–directed work, but Piper intersperses songs with a broad autobiographical sketch, as though Lennon has been brought back for one more show and a chance to reflect on his life. There's little information that will be new to any Beatles fan, but those who know only the songs will receive a quick "John Lennon 101" class about his childhood, family life, time with the Beatles, and final years.
Along with his band—Greg Piper, Don Butler, Morley Bartnoff, Don Poncher—Tim Piper performs in front of photos and video from Lennon's life. It's a greatest-hits show—including "Help!," "A Hard Day's Night," and "Come Together" among the dozen-plus Beatles songs, and "Imagine," "Cold Turkey," and "Watching the Wheels" from Lennon's solo career.
Piper doesn't vary the tone in his monologues, instead substituting volume fluctuation for emotional range. Line stumbles and an overall sense of Piper's discomfort make the spoken sections awkward. But Lennon fans who love to hear the music played live should find the spoken sections a small inconvenience in exchange for a lively concert. Those looking for gripping theater, however, will have little to appreciate.
Presented by Philip Wegener, Sara Schedeen, and Christopher Barrett at the NoHo Arts Center, 11136 Magnolia Blvd., North Hollywood. Oct. 9–Nov. 8. Fri.–Sat., 8 p.m.; Sun., 3 p.m.
(818) 508-7101, ext. 7. www.justimaginetheshow.com.