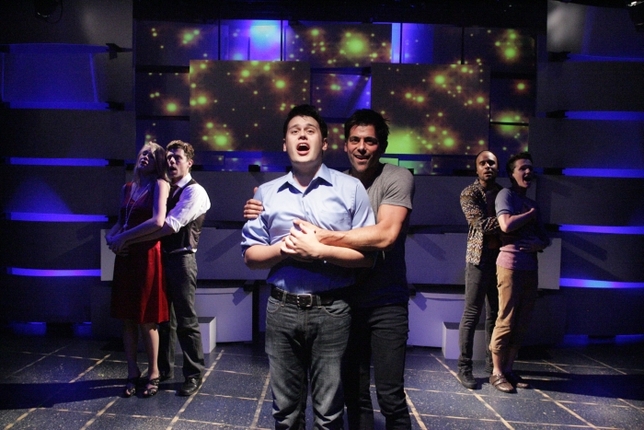 Stories taking on the bloated underbelly of Hollywood, a place filled with illusion and secrets, are legion. Not often does something fresh emerge from the genre, so it's revelatory when anything does. The new musical "Justin Love" is the brainchild of one of L.A.'s most noteworthy publicists, David Elzer, who conceived the story with Bret Calder and wrote the book with Patricia Cotter. To say Elzer knows of what he speaks is an understatement. Recognizing that a box of supermarket mini-donuts can be "practically prescription" in any Hollywood p.r. office and seeing how perfectly "hack" rhymes with "crack" are examples of his wickedly skewed observations.
Justin Rush is a film idol, always flashbulb-ready for treading red carpets with his superstar trophy wife, Amanda, glued to his side. But things change quickly when he meets his crusty publicist's new assistant Chris Andrews, a wide-eyed gay kid "right out of the Rust Belt." Even with the paparazzi circling, you'd have to be Helen Keller not to recognize the immediate attraction between them. After photos of the two kissing start "popping up faster than Chipotles in Hollywood," will Justin publicly acknowledge his sexuality—or will the closeted movie star end up sued by his masseuse in 10 years?
That nasty publicist, hilariously played as a modern Eve Arden by Alet Taylor, is the most infectiously awful character in musical theater since Mama Rose. As the lovebirds, Adam Huss as Justin and Tyler Ledon as Chris have wonderful chemistry, although one could wish Huss had the vocal talents of Ledon and Ledon had the acting chops of Huss. (As the production settles in over the course of the run, both could happen.) Carrie St. Louis lifts the thankless role of Amanda with warmth and simplicity, and the entire supporting cast is talented, fearless, and incredibly committed.
"Justin Love" is a sufficiently celebratory launch to Celebration Theatre's 30th season. But as perfect as it is in keeping with the mission of L.A.'s premier gay theater company, the production is somewhat hampered by the physical limitations of the theater's tiny three-sided playing space and a floor-to-ceiling support beam. While so many musical offerings benefit from a transfer into a space as snug as this, "Justin Love" is bursting at the seams.
Luckily, director Michael Matthews is familiar enough with this theater to inventively utilize the aisles and stage action around the offending beam. Choreographer Janet Roston and a cast skilled enough to dance with passion and determination without banging into one another, or the audience, add to the enjoyment. "Justin Love" could thrive from a move to larger quarters, where production numbers could be as grand as Lori Scarlett and David Manning's catchy score and Scarlett's delightfully irreverent lyrics, without losing the sweetness and simplicity of what ultimately emerges as a great Hollywood-style love story.
Presented by David Elzer, Peter Schneider, and Justin Rush Productions LLC in association with and at the Celebration Theatre, 7051 Santa Monica Blvd., Hollywood. Sept. 21-Dec. 16. (323) 957-1884 or www.celebrationtheatre.com. Casting by Michael Donovan.
Critic's Score: A