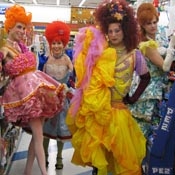 If now is not the time to redefine beauty and put it onstage in a budget extravaganza, when is? With his finger on the pulse of all things American -- especially those things that would leave Aunt Ocie speechless at the dinner table -- writer-director-choreographer Ken Roht and his creative collaborators are back and giving us just what we need. Thank you, Jesus.
Roht's vehicle is an insanely clever, interactive contest to determine which of 12 spectacular specimens representing the months of the year should win the title of Miss Calendar Girl of All. It's a fiesta of finery that celebrates and investigates our time-honored tradition of cutthroat competition and objectification, and it allows Roht and his quirky ensemble to go to very wonderful, genuine places. We have behind the scenes drama with the outrageous contestants and their equally out-there personal supporters, The Loved Ones; a hysterical volley of inane beauty-queen questions and other spot-on antics; and delightful opportunities to showcase a number of killer voices in really lovely songs, by co-composers Roht and John Ballinger. Then of course there are the obligatory production numbers with Roht's inspired choreography; whether taking off on a Bollywood riff or interpreting evolution and molecular activity, these aren't to be missed.
And this time out, the team's foray into the 99-Cent Only Stores has outfitted the show's 28 performers -- multiple times -- and dressed the stage (kudos to set designer Jason Adams and a nod to videos by Jim Hickox) for a celebration worthy of any holiday. Mad genius Ann Closs-Farley has designed costumes from Post-its, serving utensils, and packaging, creating androgynous plasticized suits for the The Loved Ones, stylish boy-band togs for the competition's Go-Go MCs, and distinctive dresses for the evening's buoyant hostess (Sissy Boyd) and her negative alter-ego (Uma Nithipalan), not to mention the 12 gowns (many featuring the work of guest designers).
Yeah, there's a lot going on. But Roht and his amazing cast pull it all together, and each performer adds something unique to the proceedings. So while we love the trappings of pageantry—and this over-the-top pageant in particular—we also love the characters who are caught up in it. And we can't ask for much more than that, can we?
Presented by and at the Bootleg Theater,
2220 Beverly Blvd., L.A.
Dec. 4–21. Thu.–Sat., 8 p.m.; Sun., 3 p.m.
(213) 389-3856 or Bootleg Theater