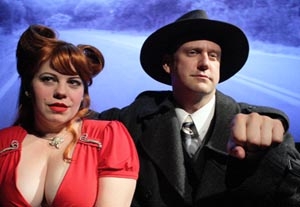 Playwright Bill Robens, who previously focused his satiric lens on classic Charles Dickens (
A Mulholland Christmas Carol
) and Irwin Allen disaster flicks (
The Poseidon Adventure
:
The Musical
and
The Towering Inferno
:
The Musical
) now goes after film-noir private-eye melodramas, with rib-tickling results. Though the tomfoolery wears thin in the home stretch, this merry excursion in scenery-chewing fun benefits from Kiff Scholl's zany directorial touches and a game cast milking the genre clichés for maximum hilarity.
The underbelly of 1948 Hollywood, as filtered through the pulpy sensibility of vintage B-movies, is cleverly conjured by Davis Campbell's evocative set, Kimberly Freed's deliciously gaudy costumes, Matt Richter's shadowy lighting, and Darrett Sander's hysterically cheesy black-and-white projections.
Merging seamlessly into this kicky milieu, stereotypical characters from formulaic whodunits quickly set the story in motion. At the center of the action, of course, is gumshoe Charlie Nickles (Dean Lemont), who projects an aura of detached confidence. Yet in analyzing clues, he always seems to be several steps behind his resourceful secretary, Ida (Lynn Odell), a CSI-caliber whiz decades ahead of her time. Haughty millionaire Lady Clairmont (beautifully overplayed by Kathleen Mary Carthy as a daffy cross between Bette Davis and Angela Lansbury) summons Charlie to her home, revealing that someone has threatened to kill her. After the murder inevitably takes place, the suspects include the dowager's fired Guatemalan gardener (Phinneas Kiyomura), her uppity butler (Ezra Buzzington), her wacko son (Nicholas S. Williams), her spoiled daughter (Megan Bartle), and a histrionic femme fatale in a flaming-red gown (Kirsten Vangsness in the production's funniest portrayal—a damsel-in-distress who's as helpless as Attila the Hun).
The plot is negligible, and the killer's identity is evident midway through. Robens would do audiences a favor by cutting at least a half-hour out of the piece. The laughs become scarcer as the story complications linger on and the shtick begins to feel repetitive. Nonetheless, this vehicle shows great promise, and you simply haven't lived until you've heard Vangsness bulldoze her way through an ingeniously ludicrous "rainbow" song that's equal parts Judy Garland in overdrive and Julie Andrews at her spoonful-of-saccharine sunniest.
Presented by and at Theatre of NOTE, 1517 N. Cahuenga Blvd., Hollywood.
June 26–Aug. 1. Fri.–Sat., 8 p.m.; Sun., 7 p.m.(323) 856-8611 or www.theatreofnote.com
.