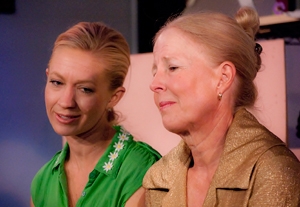 Playwright Doug Haverty deals with huge and wonderful and timeless issues in his play of women forced to confront their pasts in a Valencia trailer park: The difficult choices a woman makes when it comes to her children, the hopeless cycle of abusive relationships, the limitless possibilities in imagining a new start, and the solace and strength women can find in one another. But more than a decade after it was originally written, his updated version of "Aftershocks" feels a little weary, a little diminished, and it never quite moves us.    
JC Gafford directs the three-hander, which focuses on two 50-something women who've fled Cleveland to re-invent themselves on the outskirts of Hollywood as film extras. Dorrie Braun is spot-on as the extreme Daphne, whose Tinseltown dream it really is; she's a manic wannabe of grand proportions, surrounded by autographed 8 x 10s purchased on Hollywood Boulevard, sharing her "jigsaw puzzle life" with her longtime friend, Olive. Julia Silverman is a fun and solid presence as Daphne's Sherpa of a pal, who keeps it all together with the help of more than a few Post-its. But on one particular morning, reality comes knocking at the door of their double-wide; it's a missing piece of Daphne's story, the daughter she gave up for adoption. The smiling Summer Harlow adds a bright and cheery note in this role.
In "Aftershocks" Haverty doesn't leave us guessing about too much for too long, and director Gafford doesn't dwell in subtleties. While the play contains a great deal of smart and funny writing, its new packaging doesn't successfully transport the intended insights. In this production, we're left with would-be high drama wrapped in entertaining dialogue that nonetheless misses its mark.
Presented by the Lyric Theatre Foundation at the Lyric Theatre, 520 N. La Brea Ave., L.A. May 11–June 16. Fri.–Sat., 8 p.m. (323) 960-1055 or www.lyrictheatrela.com.