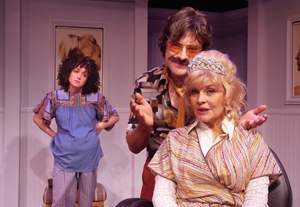 Tony Abatemarco creates and performs engaging solo pieces dealing with gnawing memories of his childhood and his relationship with his father. His newest play, "Beautified," which takes place in a hairdressing salon in Massachusetts between 1969 and today, honors the memory of his brother. Whether Abatemarco is eulogizing his family members or dealing with growing up and growing old, he has keen insight into who we are as a people and how desperately we all need each other to get through our days on this difficult planet.
The play begins 40 years ago on the opening day of Salon Elan, owned and operated by a nervous young hairdresser named Mike (Rob Brownstein). From hiring Sally (Joanna Strapp), a flighty flower-child shampoo girl who will play a major part in his business, to the walk-in patronage of Candy (Karen Austin), a rather unfriendly, politically conservative suburbanite who will also stay around for four tumultuous decades, Abatemarco lovingly and with great humor surveys the nature of friendship and loyalty.
The eras of peace and love, disco, the Me generation, and beyond careen by on Jeff McLaughlin's versatile set, showcasing Allison Leach's delightful costuming and Diane Martinous' hilarious wigs. Director Jenny Sullivan orchestrates a precision scene-change dance—which includes ever-changing framed portraits of hairstyles and phones from dial to Princess to cellular—all handled by the actors as music from each generation fills the room (hats off to sound designer Martin Carrillo).
Under Sullivan's notable care, Austin is exceptional as Candy, her trials and growing affection for Mike softening her hard edge as the years disappear. Strapp is a charmer as her love child ages into single mother and eventually shop owner, although the projection of her voice in this intimate theater needs to be lowered a few decibels. The big problem with this production is the casting of the crusty Brownstein, who at the beginning doesn't seem young or sensitive enough to pull off the role and doesn't mellow or mature as convincingly as his costars.
A lot can happen in 40 years of navigating difficult relationships, but "Beautified" tries to take in too many themes in such a short time. Abatemarco's tender tribute to his brother and the fabric of times recently past becomes overpowering and a tad maudlin; it's as though he had so many things to say that the story becomes congested with offstage traumas that can only be discussed, not actively explored. Perhaps Abatemarco can streamline what could be an important examination of the true nature of friendship without trying to crowd in so much.
Presented by the Katselas Theatre Company at Skylight Theatre, 1816 N. Vermont Ave., L.A. May 25–July 1. Fri., Sat., 8 p.m.; Sun., 2 p.m. (702) 582-8587 or www.ktctickets.com. Casting by Amy Lieberman.