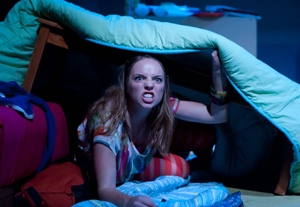 Peter Sinn Nachtrieb's 2007 play asks us to believe that the earth has suffered a cataclysmic collision with a meteor and that the only survivors are Jules, a gay marine biologist, and college student Jo, a would-be journalist. Barbara, a museum employee, oversees an exhibit dedicated to telling and retelling Jules and Jo's story, stopping, changing and enhancing the action through the pulling of various levers. This framing device purports to add a layer of ironic commentary to the proceedings. However, while Michelle Holmes' wry stage presence delivers a few mild laughs, Barbara's role as the story's narrator is Nachtrieb's failed attempt to magnify his themes.
A darkly comic meditation on the apocalypse, the play's subjects include dating, social interaction, sexual orientation, biology, theology, and philosophy, all against a backdrop of Armageddon. Jules' homosexuality presumably precludes his having sex with Jo, a plot point given a comedic twist with his announcement that he's also a virgin. While Jules claims he has prepared to be holed up in the advent of a global disaster, Jo's more immediate needs are succinctly expressed in the line "I came here to get laid." While Jules relishes the opportunity to repopulate the species, Jo opines that the planet is better off without humankind's presence. The play's best moments heighten the duo's diametric opposition, with the only sustained laughs resulting from Jo's detailed recounting of Jules' numerous failed attempts, by trickery, to inseminate her.
With his every word and movement, Angel Correa's expert comedic portrayal spells "eccentric egghead." The actor ably expresses Jules' Boy Scout–like virtue and enthusiasm, and he effectively uses his high-pitched voice to communicate Jules' nerdiness. Julie Civiello deftly paints Jo's sensuality, compulsive analyzing and note taking, and near-blind shortsightedness. As Barbara, Holmes' performance is inexplicably punctuated with hand gestures. Ever the detached intellectual observer, Barbara is too arch, coy, and self-conscious, her narration halting whatever momentum director Caitlin Sullivan Hart is able to develop.
Amanda Knehans' design of Jules' subterranean home mixes elements of domicile, laboratory, and bunker while cannily resembling a supersized aquarium, thus mirroring on a larger scale the fish tank housing Jules' prized pets. Equally laudable are the production's lighting (by Daniel Bergher), sound (by Jonathan David Lewis), and technical direction (by Thomas Amerman).
Presented by Alive Theatre at Long Beach Playhouse, 5021 E. Anaheim St., Long Beach. Feb. 24–March 10. Thu.–Sat., 8 p.m. (562) 494-1014 or www.lbplayhouse.org.