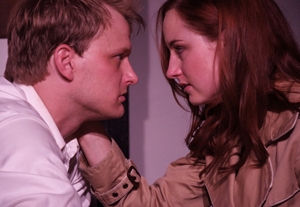 Patrick Marber's play "Closer," which debuted in London in 1997 and was made into a film with Julia Roberts and Natalie Portman in 2004, is challenging because it is almost completely without onstage action; it is made up of just a series of two-person conversational scenes. Its dramatic tension relies entirely on the actors' ability to convincingly talk their way through a range of emotional situations. The Loft Ensemble trips up with a few talky scenes that feel forced or too slow, but it's a decent production. 
Set in London, "Closer" chronicles the lives of two couples as they grapple with lust and jealousy. Mopey obituary writer Dan's life is shaken up when he meets young and edgy Alice; jaded divorcée Anna feels secure with Larry, a doctor. When Dan and Anna begin a complicated love affair, they spark a dramatic upheaval in the lives of all four characters.
John Sperry Sisk gives an outstanding performance as Larry. He easily gets laughs with perfect delivery of Larry's dry, British witticisms, and as his emotions swell in scenes of conflict, his hostility feels chillingly genuine. Sisk alone keeps many of the slower scenes afloat. As perpetually unhappy Dan, Noah Benjamin delivers a performance that is satisfactory if somewhat monotonous. As Alice, Samantha Cutaran is appropriately spunky and seductive. Her flirtatious scene with Dan at the beginning of Act 1 opens the show on a nice note. Tristin Daley is miscast as Anna; she seems too young for the role, and her character's coldness and anxiety feel artificial during emotional scenes. Because she struggles to keep up her British accent, her performance comes off as preoccupied.
Individual turns in this production are strong for the most part, but relationships between characters are the play's most important element. The ensemble work here has hits and misses, in part due to director Jason Ryan Lovett's staging, which is by turns clever and awkward. The characters in "Closer" vacillate between loving and hating one another, and in this production it tends to be the scenes of love and intimacy that aren't believable. The ensemble's best moments come at the end of the first act when hateful tension runs high. As problems begin to resolve in the second act, the performances lose steam, with the denouement arriving too slowly.
For a play that needs almost no set, the scenic design (by Lovett) is over-thought. Instead of giving the show a sense of atmosphere it distracts from the acting and reveals a small budget.
The Loft Ensemble has put forth a solid effort. Like the relationships that it portrays, this production has flaws but also enough good moments to keep you hooked.
Presented by the Loft Ensemble at Loft Ensemble, 929 E. Second St., #105, L.A. June 23–29. Sat., 8 p.m.; Sun., 7 p.m. (213) 680-0392 or www.loftensemble.com.