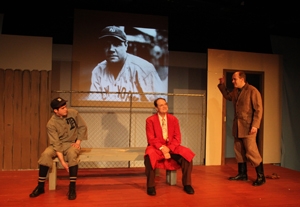 Legendary baseball player Ty Cobb (1886–1961), of the Detroit Tigers, was the first inductee to the Baseball Hall of Fame. He broke many performance records that remain unsurpassed, yet he was widely regarded by his peers and others as an unscrupulous jerk. A Georgia native reputed to be a diehard racist and an all-around difficult person, Cobb proves to be an excellent subject for Lee Blessing's thoughtful biographical drama, an intriguing examination of celebrity myth versus behind-the-scenes reality. Director Gregg T. Daniel and a taut four-member ensemble parlay Blessings' funny and affecting script into a swift-paced and entertaining 90 minutes.
The playwright provides fascinating details about the turbulent events in Cobb's personal life that shaped his complex personality, in a tale that transcends the world of professional sports to offer widely relevant themes. Though the story framework might sound a bit odd, Blessing packs a lot of edifying information within the episodes. His framing device proves fluid and functional. Presumably entering from the grave, Cobb (Kent Butler) addresses the audience, reflecting back on his life and career. He's soon joined by incarnations of himself at two separate points in his life—the 20-something rookie, nicknamed Peach (as in Georgia peach), played by Daniel Sykes, and the middle-aged Ty, played by Bert Emmett. It's interesting to see these three versions of Cobb arguing over details about the past, suggesting Cobb's internalized conflicts. Among the life events that weighed heavily on Cobb's psyche was his mother's accidental—or perhaps deliberate—shooting of his father, killing him.
Allowing for further challenges to Cobb's version of the truth are the viewpoints that come from Oscar Charleston (Jason DeLane), an African-American contemporary of his, a promising player from another team who never reached Cobb's level of fame. The narrative's excursions down memory lane are enhanced by terrific projected photos, Chris Winfield's baseball-diamond set, and Steve Shaw's evocative sound design.
Daniel's no-fuss approach to staging this intimate play wisely puts the emphasis on the superb performers. The youthful zeal of the superstar-to-be is deftly conveyed in Sykes' winning portrayal, which subtly foreshadows Cobb's darker side. Butler and Emmett convincingly play the jaded former celebrity looking back on the past with a mixture of pride and anger. DeLane is a perfect wild-card counterpart to this trio, with his edifying and amusing perspective on the recollections being expressed.
Presented by Group Rep at the Lonny Chapman Theatre, 10900 Burbank Blvd., North Hollywood. Feb. 25–April 21. Schedule varies. (818) 763-5990 or www.thegrouprep.com.