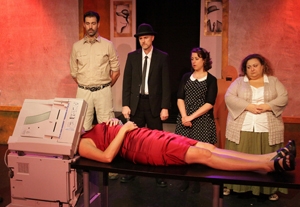 Theatre of the absurd veers off into the absolutely ridiculous in Padraic Duffy's dark comedy "Copy." Duffy's clever, unpredictable script recklessly mingles serious issues such as love, loss, death, change, and disintegration with zany wordplay, proliferating metaphors, and farcical situations.
The play is set in an office where all the employees have forgotten what it is their company does or makes, and the interns are made of corrugated cardboard. Secretary Betty (Gabby Sanalitro) nurses a secret love for the boss (Troy Blendell) but gets her kicks from burrowing her face into tuna-fish sandwiches. Wendy (Cat Davis) is a musical comedy girl who's prone to spontaneous performances of songs from the musical "Sheep-Dip" and is passionately attracted to the voluptuous, oddly named temp Bed (Lauren Letherer). Brad (Stephen Simon) is a self-styled (and self-dramatizing) adventurer who regales his co-workers with wild tales of his adventures in the South American rainforest. Mild-mannered Theo (Phil Ward) is desolated by the death of his beloved cat. He wanders into the office to Xerox the unfortunate animal and somehow becomes an employee. A believer in the therapeutic power of laughter, he launches a Laughing Club that meets in the ladies' room, which in turn spawns a Crying Club that meets in the men's room.
Director David LM McIntyre's production faithfully mirrors Duffy's anarchic spirit, and the actors adroitly navigate the play's dizzily shifting tone. Blendell succeeds as the dapper but shy boss, who can only express his love for Betty by dictating business letters to her. Sanalitro gives Betty a touch of genuine humanity amid the prevailing madness. Cat Davis belts her songs and plays her scenes with energy and infectious enthusiasm, Simon finds comic gold in Brad's pretensions and eccentricities, and Ward makes effective use of self-effacing underplaying to provide contrast with the noisy volatility of the others.
Presented by and at Theatre of Note, 1517 N. Cahuenga Blvd., Hollywood. May 4–June 2. Fri. and Sat., 8 p.m.; Sun., 7 p.m. (800) 838-3006, (323) 856-8611, www.brownpapertickets.com, or www.theatreofnote.com.