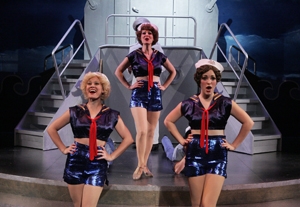 In this era of uninhibited examination of our society and the world around us, there's nothing inherently wrong with art intended solely to entertain, and certainly the minor 1966 musical "Dames at Sea" is meant to accomplish nothing more than that. As with the classic Busby Berkeley films it satirizes, ridiculously diversionary fluff that for many made the Depression a little less depressing, one can choose to sit back and do a helluva lot of smiling as six able performers tap our troubles away, at least for a couple of hours. Unfortunately, escapism takes a little more imagination today than it must have back then.
Under the perfectly tongue-in-cheek leadership of director Todd Nielsen and featuring Lisa Hopkins' spirited choreography, Heather Ayers, Tessa Grady, Shannon Mari Mills, Dink O'Neal, Jeffrey Scott Parsons, and Justin Michael Wilcox snap their gum, pat their bobbed wigs (by Joni Rudesill), and fill the theater with massive doses of infectious energy and aw-shucks charm. Parsons is especially charismatic as the resident Dick Powell character, a sailor literally right off the boat, while O'Neal makes his dual roles of the harassed theater producer and the ship's captain so wildly dissimilar that patrons who didn't read the program might think there's a cast of seven.
But try as everyone will, they're still faced with Jim Wise's forgettable music, which pays glaringly inadequate homage to Porter and Gershwin and is dragged down further by George Haimsohn and Robin Miller's conspicuously predictable book and lyrics. Maybe this once seemed a fresh and clever parody of Berkeley's improbable extravaganzas, but today, although times are just as much of a mess as they were in the '60s and the '30s, we've had our senses oversaturated with myriad spoofs of the genre.
Although Stephen Gifford's intentionally flimsy set gives the feeling of a quickly unfolding let's-get-a-barn-and-put-on-a-show effort, to try to capture the charming smallness of the original on this slick and well-appointed midsize stage gets in the way of the quaintness needed to make the show work. Perhaps if "Dames at Sea" went back to its humble diamond-in-the-rough roots at Caffe Cino, the small coffeehouse in New York's Greenwich Village where it began 46 years ago, the well-marinated audiences of 2012 might be better equipped to suspend belief and abandon our more sophisticated tastes.
Presented by and at the Colony Theatre Company, 555 N. Third St., Burbank. April 14–May 13. Thu. and Fri., 8 p.m.; Sat., 3 and 8 p.m. Sun., 2 p.m. (818) 588-7000 or www.colonytheatre.org. Casting by Patricia Cullen.