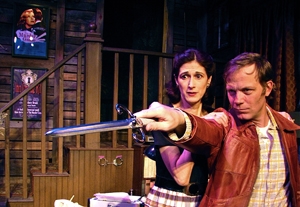 It's not easy to synopsize Ira Levin's classic comic thriller "Deathtrap" without divulging information, but the plot is simple: A once-successful playwright receives a copy of a new surefire hit written by a student and invites him to his isolated country home to permanently eliminate the kid and claim the manuscript as his own.
Levin's tongue-in-cheek plot twists and deprecating references to the play's genre prove to be storytelling at its craftiest, something director Ken Sawyer and producer Jon Imparato honor with utmost deference. Lightning crashes ominously as it gleams off Sidney Bruhl's threatening collection of weapons mounted on the walls of Joel Daavid's two-story raw-wood-paneled renovated-country-stable set, an atmospheric, intricately detailed wonder, especially mounted in this tiny 50-seat playhouse. Luke Moyer's eerily effective lighting and Sawyer's crescendoing sound also add immeasurably to the team's efforts to make patrons jump out of their seats at the right moments.
Levin's script demands a cast able to deliver his convoluted situations and less-than-subtle humor without giving anything away. Sidney's complaints about just such gothic plays as this one—"I've lost my taste for glib, superficial characters"—prove prophetic as the performers attempt to bring these people to life. Elizabeth Herron succeeds best as the outrageously demonstrative psychic Helga Ten Dorp, wildly exploring her character's ridiculous behavior without losing a sense of reality. Brian Foyster almost gets there as Sidney, although occasionally he isn't broad or dramatic enough in his choices to let us see how pouty and entitled the guy really is. As Sidney's long-suffering wife, Myra, Cynthia Gravinese begins so frail and full of wide-eyed terror that she gives new meaning to the term "playing the victim." As the potentially doomed young playwright eager to succeed at any cost, Burt Grinstead could work a little less hard, delivering Clifford's alternating fear and bravado with a tad more subtlety.
The biggest surprise of this production is its most glaring misstep, however. As Sawyer stated in an interview, "People are going to wonder why we're doing a classic Broadway thriller at the Gay & Lesbian Center—it's one of the secrets." Sadly, although gratuitous nudity and steamy behavior might be pleasing to scrutinize at such close distance, it does disservice to the play. The gay relationship between two characters is a plot twist, not an expression of lifestyle, making the pair's subsequent treatment of one another ring totally false and glaringly inappropriate.
Presented by the L.A. Gay & Lesbian Center's Lily Tomlin/Jane Wagner Cultural Arts Program at the Davidson/Valentini Theatre, Village at Ed Gould Plaza, 1125 N. McCadden Pl., L.A. March 30–May 6. Fri. and Sat., 8 p.m.; Sun. 7 p.m. (323) 860-7300 or www.lagaycenter.org.