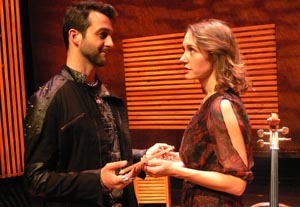 The discord referred to in the title of Damian Lanigan's play is about more than musical disharmony; it speaks to the interpersonal relationships among the members of an acclaimed string quartet. They are preparing to face the critics in a crucial performance, and bickering is slowing down their progress.
James (Daniel Gerroll) is first violin, the most prestigious position in the ensemble. He is bitterly acerbic, clashing with anyone who questions his authority. This exasperates second violin Hal (Peter Larney), a younger artist who chafes at James' autocratic ways. The remaining two, violist Paul (Skip Pipo) and cellist Beth (Elizabeth Schmidt), are not as easily drawn into the fray, although both try in varying ways to cleanse the atmosphere. If the group's upcoming concert were not enough to complicate the plot, Beth has promised to tutor rock musician Jonny (Jeffrey Cannata) on the finer points of classical music. His interaction with Beth and Hal, her former lover, leads to the cathartic performance that ends the play.
It would be unlikely to find four gifted thespians who were also talented string players, so, sadly, Mozart et al are mimed by the excellent actors to David Beaudry's effective sound design. The only live music in the production is performed somewhat diffidently by Cannata as the rocker. The simplicity of Francois-Pierre Couture's set and Nick McCord's lighting keeps the focus squarely on the principals as their stories unfold. Crispin Whittell's direction minimizes histrionics, though the dialogue occasionally slants in that direction.
Lanigan has taken what could be fairly dry discourse—explaining how four musicians attempt to capture a composer's intent while striving for perfection—and inserts wit and passion. For those who know little about string quartets, the show will undoubtedly be instructive, but for anyone familiar with theatrical milieus, it may seem familiar territory. Still, the juxtaposition of artistic temperament and devotion to art is neatly captured in "Dissonance."
Presented by and at the Falcon Theatre, 4252 W. Riverside Dr., Burbank. Feb. 10–March 4. Wed.–Sat., 8 p.m.; Sun., 4 p.m. (818) 955-8101 or www.falcontheatre.com.