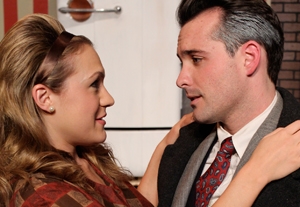 Political corruption and murder: What better fodder could there be for a goodhearted slapstick comedy? Using the broadest of broad strokes, Chicago playwrights Barbara Wallace and Thomas R. Wolfe have a ball painting a scene of their hometown circa 1960, where politicos, cops, priests, mobsters, and businessmen are all in bed together on the eve of a precinct election but only the virginal nightclub singer ends up pregnant. In this solid West Coast premiere of "Early and Often," there are a lot of laughs to be had, even if we're left wanting a bit more substance to hang onto after Election Day.
We first meet Illinois state assembly candidate Marty Collins as we enter the theater. Chatting and pressing flesh, the smarmily charming Mat Lageman does a wonderful job setting us up, because director Ron West doesn't pull any comedic punches once the show starts. We're quickly introduced to Democratic precinct captain Art Ruck (Bryan Bertone), Ruck's distressed gal pal Connie (Catherine Urbanek), ward boss John Flannery (Bjørn Johnson); and fellow politico Dennis (Ehrin Marlow), just the sort of dim bulb who'll have a bright future in an elected office. Oh, and also a couple of rookie cops (Christofer Frey and Dylan Maddalena), who want to do the right thing after pulling a body out of the water but are dissuaded by the detective in charge (John D. LeMay). Then there's the not-so-grieving widow (Amanda Weier) who's got a past with Ruck and more than a few other mopes added into the mix, including a bartender (John Bobek), natch. I mean, this is Chicago.
"Early and Often" is not short of characters or plot points, many of them thrown in for the yuk factor, which doesn't always pay off. Many of the Chi-town in jokes are also hit or miss, but the company of actors is a strong one. When connected and grounded, these performers are a delight to watch. The production looks good, especially Kellsy MacKilligan's costumes, and West has gone for a go-for-broke playing style and a rim-shot physicality that is precisely what this somewhat uneven material needs. It's all fun and games, especially when a frozen corpse is involved. When the actors are pushed for hilarity's sake, however, we start to wonder what we're really supposed to be laughing at.

Presented by and at Open Fist Theatre Company, 6209 Santa Monica Blvd., Hollywood. April 7–May 26. Fri. and Sat., 8 p.m.; Sun., 2 p.m. (323) 882-6912 or www.openfist.org.