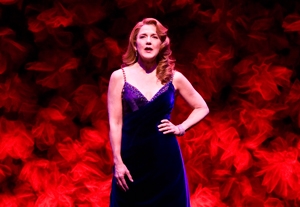 There are great musicals, and there are great musicals—and then there is "Follies." Stephen Sondheim and James Goldman's epochal 1971 lament for the declining American dream—by way of American musical theater via a reunion of ex-showgirls in a condemned theater—has reached near-mythological status since its iconic original production. And for good reason, as this glorious revival makes unforgettably clear, courtesy of director Eric Schaeffer, a splendid design roster, and a marvelous cast.
Lucky, that, because "Follies" commands as richly layered and challenging a central concept as any Broadway musical before or since. A Proustian quality graces Goldman's unjustly undervalued book as the specters of the past observe their future selves in uneasy reunion, reflecting, refracting, and contradicting the memories of their antecedents. Underpinning that is the extraordinary scope of Sondheim's score, which merges pastiche, comment, homage, and emotional subtext to lushly overwhelming effect. Echoes of the key Great White Way tunesmiths between the wars jockey with Sondheim's distinctive character numbers, and music director James Moore's blazing pit nails every detail of Jonathan Tunick's incomparable orchestrations.
Then there are the requisite production values and the staggering range of talents needed to achieve full elegiac impact. This revival, which began in Washington, D.C., at the John F. Kennedy Center for the Performing Arts before traveling to New York, triumphs on both counts. Derek McLane's superb set design, which drapes drop cloths from the venue's ceiling to the side boxes, features a crumbling proscenium and exposed backstage grids for maximum contrast when the climactic "Loveland" sequence arrives in a flurry of floral arches and Fragonard finery. Kudos to Gregg Barnes' spectacular costume parade, from the first glittering ghostly showgirl to the color-coded duds allowing instant identification of all the principals and their younger editions. Natasha Katz's lighting and Kai Harada's sound design demarcate past and present with breathtaking ingenuity, modern technology applied to old-school panache.
Schaeffer and choreographer Warren Carlyle rethink yet honor Harold Prince and Michael Bennett's original staging, particularly in the omnipresent ghosts and re-conceptions of "Too Many Mornings" and "Who's That Woman?" The cast is pitch-perfect, starting with the unhappily partnered leading quartet. Ron Raines is grandee Ben, and his resonant baritone and hitherto-stolid acting have never been better, poignant on "The Road You Didn't Take," rending in "Live, Laugh, Love." Danny Burstein is revelatory as traveling salesman Buddy in the Odetsian passion he brings to "The Right Girl" and the airborne dexterity of his "The God-Why-Don't-You-Love-Me Blues."
Victoria Clark replaces Bernadette Peters as the self-deluding Sally, making the role her own with wonderful insight and amber vocals, from her double-edged attack on "In Buddy's Eyes" to the unbearable pathos of "Losing My Mind." The great Jan Maxwell burrows so deeply into the patrician Phyllis that you only hope she can return, with the best "Could I Leave You?" on record—an inspired performance.
Elaine Paige, as movie star Carlotta Campion, takes daring metrical liberties with "I'm Still Here" and, like the fierce Terri White selling "Woman" as Stella Deems, sends song and audience sky-high. Susan Watson and Sammy Williams as the Whitmans, Mary Beth Peil as Solange LaFitte, and the priceless Jayne Houdyshell as Hattie Walker similarly bring showstopping verve to their vaudeville medley. Still-plangent Carol Neblett and crystalline Leah Horowitz are exquisite as old and young Heidi Schiller in "One More Kiss." Kirsten Scott, Nick Verina, Lora Lee Gayer, and Christian Delcroix as the young leads are other standouts in a company composed of standouts.
Tangoing Vincent and Vanessa and "Bolero d'Amour" are gone, but the main caveat regards certain pointless changes to Goldman's book, with the absence of Phyllis' paint-box metaphor and Sally's suicidal admission especially vexing. Still, not for nothing was Frank Rich's legendary Harvard Crimson review of "Follies" in its original Boston tryout headlined "The Last Musical." He was dead-on, and this indelible mounting is as exceptional a take on Sondheim and Goldman's masterwork as we will likely experience in our lifetime.
Presented by Center Theatre Group and the John F. Kennedy Center for the Performing Arts, Nederlander Presentations, Adrienne Arsht, HRH Foundation, and Allan Williams at the Ahmanson Theatre, 135 N. Grand Ave., L.A. May 9–June 9. Tue.–Fri., 8 p.m.; Sat., 2 and 8 p.m.; Sun., 1 and 6:30 p.m. (213) 972-4400 or www.centertheatregroup.org. Casting by Laura Stanczyk Casting.